3rd Interregional Policy Brokerage - Green and Digital Transition
SMARTY is holding its third Interregional Policy Brokerage on "Regional Strategies and Incentives for the Green and Digital Transition
About this event
Regional Strategies and Incentives for the Green and Digital Transition
On June 22nd, the SMARTY project is bringing together a panel of experts from the participating regions—Tuscany (Italy), Flanders (Belgium), Lapland (Finland), Mazovia (Poland), Slovenia, Castilla y León (Spain), Catalonia (Spain), Leeds City Region (UK)—and other European territories, to discuss the regional strategies and incentives for supporting the green and digital transition of SMEs. The virtual event will be structured around two round-table sessions, providing attendees with the opportunity to learn about the good practices identified by the SMARTY partners this semester.
Here's what you will learn:
How Regional Governments are translating the Green and Digital EU Programs into their regional policies and strategies
Which incentives are being applied by the regions, and how they create synergies between the different funding mechanisms
Please note this event will be held on Microsoft Teams and booking is essential. You will be sent the link to join this Teams meeting ahead of the session on 22nd June.
Agenda
Official Welcome
Ales Hancic — Director, TECOS
Besnik Mehmeti — SMARTY Lead Partner, Municipality of Prato
Session I: Regional strategies for the green and digital transition
Facilitator: Simona Vernon — TECOS
West Yorkshire Tackling the Climate Emergency Action Plan
Daniel Barrett — Head of Energy & Environment, West Yorkshire Combined Authority
Laplands Green Deal
Satu Luiro — Strategy manager, Regional Council of Lapland
EU and Slovenian perspectives on Digital and green transitions
Marko Hren — Slovenian Government office for development and cohesion policy (GODCP)
Strategy for the Development of the Information Society of the Mazowieckie Voivodeship 2020–2030
Andrzej Perkowski — Head of Information Society Development Office, Department of Digitization, Geodesy and Cartography, The Office of the Marshal of the Mazowieckie Voivodeship in Warsaw
Next Generation Prato: Green and Digital Transition
Leonardo Borsacchi — Researcher and coordinator of Circular Innovation & Sustainable Commodities Unit at ARCO
Short break
Round Table: "How are Regional Governments translating the Green and Digital EU Programs into their regional policies and strategies?"
Moderator: Sergio Martinez — Regional Government of Cataluña
Participants from regional strategies presented in prior sessions.
Short break
Session II: Regional case studies in supporting the green transition of industries and business ecosystems
Facilitator: Kristiina Jokelainen — SmartNorth
Experiences and results from the OIS-AIR and Blue-AIR projects of Slovenia
Peter Medica — Senior Policy Officer, Technology Park Ljubljana
The 3D Printing ecosystem in Catalonia: Promoting the adoption and digital transformation of the industry
Alba Garcia Miranda — 3D Printing Project Manager, Leitat Foundation
Leading Sustainable Business Transformation Programme
Natalia Olynec — Head of Sustainability, International Institute for Management Development (IMD), Lausanne
The Circular Economy for the competitiveness of Made in Italy sectors (GIOTTO)
Daniele Spinelli — Project Manager at Next Technology Tecnotessile
Audience Q/A for case studies
Conclusions and closing
Päivi Ekdahl — Development director, Regional Council of Lapland
SMARTY Partners: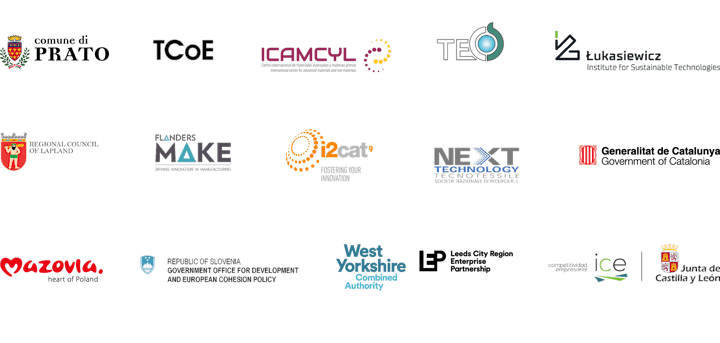 Organizer of 3rd Interregional Policy Brokerage - Green and Digital Transition
The Interreg Europe project SMARTY aims at establishing a common basis for policy learning among its members in order to deal with the main challenges hampering the diffusion of Industry 4.0 solutions and their enabling potential into the European SME ecosystem.
SMARTY will implement interregional learning activities to identify, analyse and share solutions which have already been tested in one of the participating regions and that can help in the innovation processes of other partners' regional industrial systems. These exchanges of experience will take place at the Interregional Thematic Seminars and Interregional Policy Brokerage workshops organized by the project on a semester basis. The learning potential embedded in these interregional exchanges will result in the uptake of new good practices and projects by the partners, thus enabling the delivery of innovation within regional supply chains.
SMARTY is co-funded by the European Regional Development Fund (ERDF) under the umbrella of the European Union programme Interreg Europe with around 1.99 M EUR ERDF (2.42 M EUR Total Budget). It runs over a period of four years and started on 1st of August, 2019.