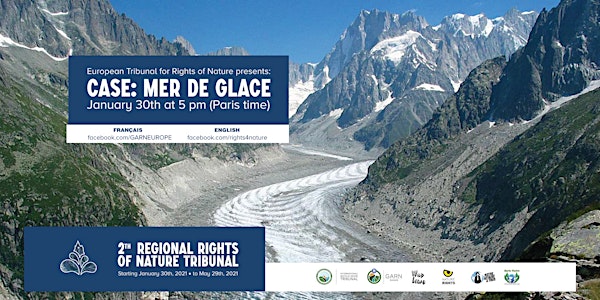 1st CASE: Mer de Glace - EUROPEAN RIGHTS OF NATURE TRIBUNAL 2021
THE EUROPEAN RIGHTS OF NATURE TRIBUNAL, IN DEFENSE OF AQUATIC ECOSYSTEMS' first case - Mer de Glace kicks off our online series of 5 hearing
About this event
ENG
The Tribunal will hear and try five critical aquatic ecosystem cases brought by frontline, impacted communities and experts from across Europe.
The Tribunal will be presided over by a panel of experienced Rights of Nature judges from around the world.
This first case in the series is focusing on The Mer de Glace (literally "the sea of ice"), a French glacier, located on the Mont-Blanc massif. It is 30 km² wide, 12km long and 300 meters thick, making it the largest glacier in France and the third-largest in the Alps.
This ice giant is however highly threatened: climate change is causing it to thaw rapidly.
Each year, the glacier shortens by 30 to 40 meters and loses 4 to 5 meters of its downstream thickness. Since 1850, the Mer de Glace has withdrawn by 2km. Scientists predict it could withdraw by another 1.2 km by 2040.
If glaciers were to disappear, the consequences would be disastrous and unprecedented for biodiversity (including human beings and non-human beings). Along with the oceans' thermal expansion, the thawing of the glaciers and of the Antarctic and Greenland ice caps is the main cause for the global sea-level rise.
There is an undeniable link of interdependence between humans, non-humans and glaciers.
At this hearing, the case team will ask the Tribunal to acknowledge that in order to guarantee the rights of human and non-human beings, we must recognize and uphold the rights of Mother Earth and of the natural elements forming it, notably the Mer de Glace
By recognizing the glaciers rights to exist and regenerate, we also protect the fundamental rights of human and non-human beings.
FR
Le Tribunal Européen pour les droits de la Nature en défense des écosystèmes aquatiques présente son premier cas consacré à la Mer de Glace, qui lance une série de 5 audiences en ligne, chaque dernier samedi du mois à partir de Janvier.
Cinq cas d'atteintes graves aux écosystèmes aquatiques seront présentés au Tribunal par les communautés impactées et des experts de toute l'Europe.
Le Tribunal sera présidé par un panel de juges experts des droits de la Nature du monde entier.
Le premier cas de la série sera consacré à la Mer de Glace, le plus grand glacier français, situé dans le massif du Mont-Blanc. Ce glacier fait plus de 30km² de superficie, 12km de long et 300m d'épaisseur.
Ce géant de glace est cependant sévèrement menacé de disparition du fait du dérèglement climatique.
Chaque année, le glacier rétrécit de 30 à 40 mètres et perd jusqu'à 5 mètres d'épaisseur à son aval. Depuis 1850, la Mer de Glace a reculé de 2km. Les scientifiques estiment qu'elle pourrait encore reculer de 1,2km d'ici 2040.
La disparition des glaciers aurait des conséquences désastreuses sans précédent pour la biodiversité (êtres humains et êtres non-humains). Avec l'expansion thermique des océans, la fonte des glaciers et des calottes glaciaires d'Arctique et du Groenland est la cause principale de l'élévation du niveau des océans.
Il existe une indéniable interdépendance entre les être humains, les êtres non-humains et les glaciers.
Lors de l'audience, l'équipe de la Mer de Glace demandera au Tribunal de reconnaître qu'afin de garantir les droits des êtres humains et non-humais, les droits de la Terre Mère et de ses éléments, notamment la Mer de Glace, doivent être reconnus et respectés.
En reconnaissant le droit des glacier d'exister et de se régénérer, nous protégeons aussi les droits fondamentaux des êtres humains et non-humains.