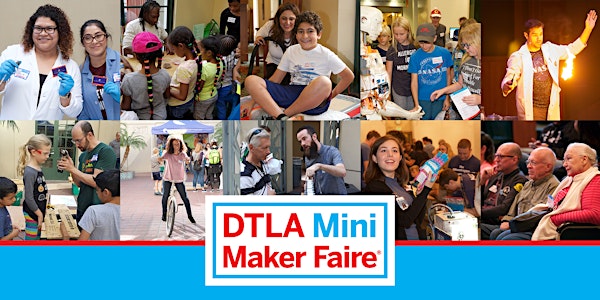 2019 DTLA Mini Maker Faire
By Los Angeles Public Library
Date and time
Saturday, December 7, 2019 · 10am - 4pm PST
Location
Los Angeles Central Library 630 West 5th Street Los Angeles, CA 90071
Description
DTLA Mini Maker Faire is back for the fourth year running! Los Angeles is again joining a global network of Maker Faires to celebrate invention, creativity, craftsmanship, science, and the Do-It-Yourself (DIY) and Do-It-Together (DIT) culture with more diverse representations of all of the kinds of making in Los Angeles and beyond!
Proudly hosted by the Los Angeles Public Library, the DTLA Mini Maker Faire will take place at the gorgeous and historic Central Library in downtown Los Angeles (otherwise known as DTLA).
Download our event app, Whova, to see the schedule, maps and session locations, and connect with other attendees.
Questions? Want to talk to an organizer? Interested in becoming a sponsor? Visit our Contact page.
FAQs
Attendance is Free! Why sign up for a ticket?
Due to the limited space at the Central Library, participants are strongly recommended to register for a ticket. In addition, signing up for a ticket will help us better plan our exhibits and interactive displays so that we will have enough materials for everyone to take part and enjoy.
And there's more! All registered attendees will receive a DTLA Maker Faire sticker at check-in that will be accepted as a discount voucher at various nearby eateries. A complete list of participating stores will be provided at check-in. Also, all registered participants will be automatically entered to win a really cool prize tote at check-in. Winner will be notified via email.
Do I need to bring my ticket with me?
Yes, please bring your printed ticket or have your confirmation QR code ready on your smart device for faster check-in at the event entry.
When will DTLA Mini Maker Faire be open to the public?
It will be on Saturday, December 7, 2019, from 10 a.m. to 4 p.m. PST
More information at dtla.makerfaire.com.
Where can I park?
Due to major traffic congestion and extremely limited parking, we strongly encourage all participants to take public transportation or rideshare.
The Los Angeles Public Library does not own or operate public parking facilities in the vicinity of the Central Library. Parking is available under the library building at Westlawn Garage at 524 S. Flower Street.
$5.00 flat-rate day of the event. Let the attendant know you are attending DTLA Mini Maker Faire to receive the flat-rate validation ticket.
Please note: If you lose your validation ticket, the regular flat-rate of $8.00 will apply. Parking rates are subject to change without notice!
The Westlawn Parking Garage under the library building is expected to be extremely congested and it could take up to three hours to enter or leave. Attendees who wish to park under the library building, please plan accordingly.
For more information about parking including additional parking options, please visit our attend page.
Where is the handicap parking located?
The Central Library is fully accessible to the disabled throughout the building. Flower and Fifth Street entrances have ramps.
There are two options for handicapped parking:
There are two handicapped parking spaces with no meters or charge located on the south side of Fifth Street close to the Fifth Street entrance to the building for vehicles with a disabled placard.

The Westlawn commercial parking lot at 524 S. Flower Street has the disabled parking symbol on its sign. The spaces are available immediately to the right as you enter the garage.
Is public transportation available?
The Metro Blue Line and Metro Red Line both have stops near Central Library. Most buses that come downtown stop near the Central Library. Check the MTA website for rates, routes, and schedules. Please note that due to the ongoing Metro Regional Connector Transit Project, Metro Rail and Bus service may be impacted.
For real-time rail and bus service information, please click here or call 323.GO.METRO
Will you have bike parking?
Yes, the Central Library has 12 U-bike racks in front of the 5th Street entrance, 4 U-bike racks on Hope Street near the library's Hope Street entrance, and there is a single-sided grid bike rack by the staircase next to the Library's Flower Street entrance.
Can I volunteer at the Mini Maker Faire?
Yes! Please contact the Volunteer Engagement Office at volunteer@lapl.org or call (213) 228-7490.
What if it rains?
The show will go on! Only a portion of the exhibits will be outdoor. Bring rain gear to keep you dry when walking outdoors. We will have many indoor exhibits to keep the family dry.
What can I expect?
To have a fantastic time! You'll be surprised, intrigued, and inspired with every corner that you turn.
DTLA Mini Maker Faire is independently organized and operated under license from Make: Community.
I understand that by registering here, Make: Community may provide me with updates and information about Maker Faires, other events, and products of interest to the maker community. I understand that I may opt out of these communications at any time.
Make: Community Privacy Policy
About the organizer
The Los Angeles Public Library provides free and easy access to information, ideas, books and technology that enrich, educate and empower every individual in our city's diverse communities.
A recipient of the nation's highest honor for library service—the National Medal from the Institute of Museum and Library Services, the Los Angeles Public Library serves the largest and most diverse urban population of any library in the nation. Its Central Library, 72 branch libraries, collection of more than 6 million books, state-of-the-art technology accessible at www.lapl.org, and more than 18,000 public programs a year provide everyone with free and easy access to information and the opportunity for life-long learning.
About Maker Faire:
Maker Faire is the Greatest Show (and Tell) on Earth—a family-friendly showcase of invention, creativity and resourcefulness, and a celebration of the Maker Movement. It's a place where people show what they are making, and share what they are learning.
Makers range from tech enthusiasts to crafters to homesteaders to scientists to garage tinkerers. They are of all ages and backgrounds. The aim of Maker Faire is to entertain, inform, connect and grow this community.  There are over 200 Maker Faires annually around the globe.
About Make: Magazine:
Make: is the first magazine devoted entirely to Do-It-Yourself (DIY) technology projects. Make: unites, inspires, informs, and entertains a growing community of resourceful people who undertake amazing projects in their backyards, basements, and garages. Make: celebrates your right to tweak, hack, and bend any technology to your will. 
Besides the magazine and the faire, Make: Community is:
a publisher of best-in-category titles via Make: Books, including introductions to electronics, Raspberry Pi, 3D printing, Arduino and more.