EUROPEAN RIGHTS OF NATURE TRIBUNAL, IN DEFENSE OF AQUATIC ECOSYSTEMS' second case - French Guiana.
About this event
The Tribunal will hear and try five critical aquatic ecosystem cases brought by frontline, impacted communities and experts from across Europe.
This second case in the series is focusing on the French Guiana. For more than 30 years, French Guiana has been a region severely hit by illegal gold mining. This activity is devastating the country because of its major impact on the environment.
Mercury pollution of waterways due to these activities leads to a collapse of biodiversity and threatens the local population's health, especially the local Native Americans, the Wayana people, located upstream of the Maroni river.
Bursting the ground open with the help of powerful engines, illegal gold miners are responsible for the destruction of 1330km of waterways. The mercury used to treat the gold is thrown away into nature and then adds up to the mercury naturally present in the ground.
This metal can be found all along the food chain: stocked by plants and ingested by fishes, it contaminates those living alongside the river. Moreover, the muddy waters rejected by the gold mining activity are making the rivers turbid. Water is unhealthy and prevents fish' reproduction thereby damaging the ecosystem's health.
Aquatic ecosystems have a right to conservation, to regenerate and restore their life cycles. This is undermined by illegal gold trafficking and therefore must be completely eradicated from the territory of French Guiana.
GOALS
The recognition of Haut Maroni as a natural entity benefiting from the right to the protection, conservation and restoration of its ecosystems, the establishment of a local governance model respectful of the rights of the people of French Guiana, guardians of the Amazon, the implementation of an action plan aimed at definitively eliminating illegal mining activities in cooperation with the inhabitants of Haut Maroni region, the implementation of local economic alternative projects and the organization of a regional mercury screening campaign.
SPEAKERS
Presenter: Marine Calmet, Lawyer, President of the NGO Wild legal
Legal Expert: Alexis Tiouka, legal expert specialized in the rights of Indigenous People
Witnesses living on the banks of the Maroni river: Linia Opoya, Kupi Aloike and Michel Aloike
The Tribunal will be presided over by a panel of experienced Rights of Nature judges from around the world:
Chairperson: Cormac Cullinan, lawyer and writer (Wild Law: A Manifesto for Earth Justice)
Lisa Mead (lawyer, founder Earth Law Alliance), Valérie Cabanes (international lawyer, member of the Stop Ecocide Foundation), Tom Goldtooth (activist for rights of Indigenous People and the rights of Nature)
Prosecutor: Rebecka Le Moine
Co-Secretariat: Camille Bouko-levy, Olivia Gervais, Natalia Greene
Watch the event live
English: fb.com/rightsofnaturetribunal/live
French: fb.com/garneurope/live
For more info please click here.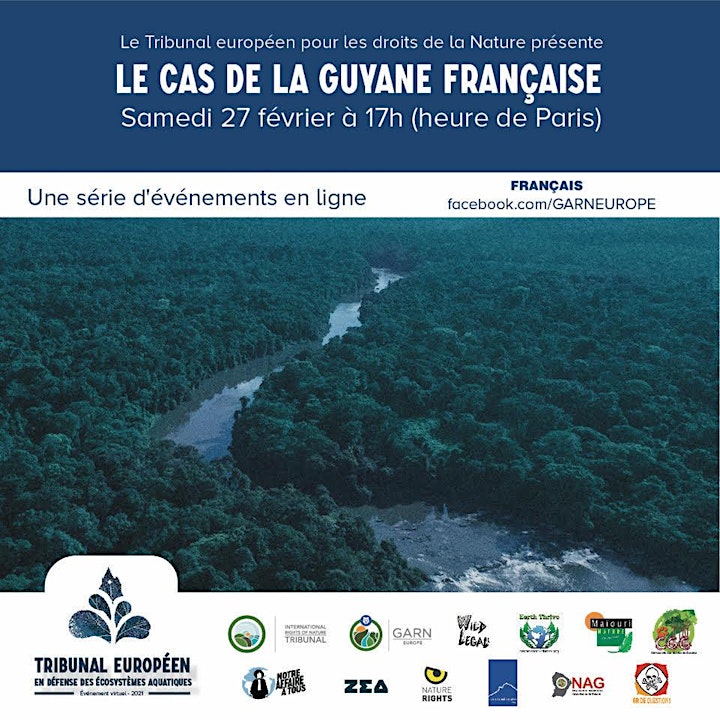 FR
LE 27 FÉVRIER 2021 SE TIENDRA L'AUDIENCE DU CAS DE L'ORPAILLAGE ILLÉGAL EN GUYANE FRANÇAISE, UN DES 5 PROCÈS FICTIFS DU TRIBUNAL EUROPÉEN DES DROITS DE LA NATURE EN DÉFENSE DES ÉCOSYSTÈMES AQUATIQUES.
Cette audience entend interpeller les décideurs publics sur la pollution au mercure du fleuve Maroni due à l'orpaillage illégal en Guyane. Depuis plus de 30 ans, la Guyane française est une région sévèrement touchée par l'extraction illégale d'or.
La pollution au mercure des cours d'eau due à ces activités conduit à un effondrement de la biodiversité et menace la santé de la population locale, en particulier les Amérindiens locaux, les Wayana, situés en amont de la rivière Maroni.
En ouvrant le sol à l'aide de moteurs puissants, les mineurs d'or illégaux sont responsables de la destruction de 1330 km de voies navigables. Le mercure utilisé pour traiter l'or est rejeté dans la nature et ce métal se retrouve tout au long de la chaîne alimentaire. De plus, les eaux boueuses rejetées par l'activité aurifère rendent les rivières troubles et porte atteinte à la santé des écosystèmes.
LES DEMANDES PORTÉES DEVANT LE TRIBUNAL
La reconnaissance du Haut Maroni comme une entité naturelle bénéficiant du droit à la protection, à la conservation et à la restauration de ses écosystèmes, la mise en œuvre d'un plan d'action visant à éliminer définitivement les activités minières illégales en coopération avec les habitants, l'organisation d'une campagne régionale de dépistage du mercure, etc.
LES INTERVENANTS
Présentateur: Marine Calmet, juriste, présidente de l'association Wild Legal
Expert: Alexis Tiouka, juriste spécialiste des droits des peuples autochtones
Témoins habitants du fleuve Maroni: Linia Opoya, Kupi Aloike et Michel Aloike
Le Tribunal sera présidé par un panel de juges experts des droits de la Nature du monde entier:
Président de séance: Cormac Cullinan, avocat et auteur (Wild Law: A Manifesto for Earth Justice)
Juges: Lisa Mead (avocate, fondatrice Earth Law Alliance), Valérie Cabanes (juriste en droit international, membre Fondation Stop Ecocide), Tom Goldtooth (activiste pour les droits des peuples autochtones et des droits de la Nature)
Procureure: Rebecka Le Moine
Co-secrétariat: Camille Bouko-levy, Olivia Gervais, Natalia Greene
LIVE EVENT
English: fb.com/rightsofnaturetribunal/live
French: fb.com/garneurope/live
Pour plus d'information sur le cas du fleuve Maroni en Guyane francaise, cliquez sur ce lien: rightsofnaturetribunal.org/cases/french-guiana-case
Et retrouvez toutes les informations sur le site de Wild Legal.