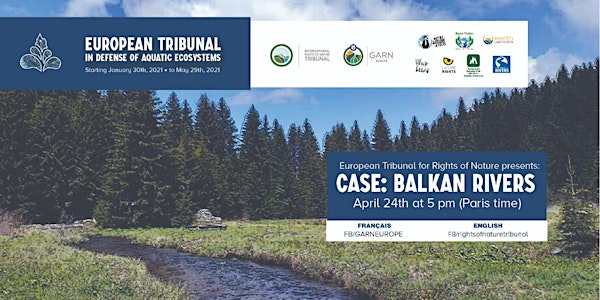 4th CASE: Balkan Rivers case - EUROPEAN RIGHTS OF NATURE TRIBUNAL 2021
EUROPEAN RIGHTS OF NATURE TRIBUNAL, IN DEFENSE OF AQUATIC ECOSYSTEMS' fourth case - Balkan Rivers Case, ecocide through dam construction.
About this event
The Tribunal will hear and try five critical aquatic ecosystem cases brought by frontline, impacted communities, and experts from across Europe.
This fourth case in the series is focusing on the Balkan Rivers. The Balkan rivers are some of the last free flowing and wild rivers of Europe and are a hotspot for biodiversity with unique ecosystems and wildlife, including the critically endangered Balkan lynx.
They are home to 69 different fish species that live nowhere else in the world, and their beds provide shelter for over 40% of all endangered freshwater mollusk species in Europe.
However, those rivers are now highly endangered with the plans to build over 3,500 dams on just about every one of them. If built, it would possibly result in ecocide.
Register for the event here.
For more info please click here.