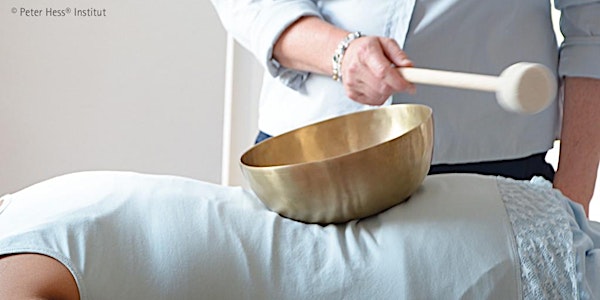 7 days Intensive Course on Peter Hess ® Sound Massage
Start 2023 with new Energy and learn the autentic Peter Hess® Sound Massage in Southern Spain or participate online.
When and where
Location
MOA International Avenida Nuestro Padre Jesus Cautivo Los Boliches 29640 Fuengirola Spain
Refund Policy
Refunds up to 30 days before event
Eventbrite's fee is nonrefundable.
About this event
Get away from the hustle and bustle of modern life by unwinding at the sunny Costa del Sol. We will host several full-day courses spread across a week, or learn individual modules Level I, Level II and / or Level III & IV.
During the courses you can familiarise yourself with the theory and practical skills needed to perform sound massages for private use and for professionals to integrate it into their therapy work.
Upon completion you will receive a certificate from the Peter Hess Academy Spain, which is recognised by the Peter Hess Institute in Germany - and if you wish take authentic Peter Hess Therapy Singing Bowls home with you!
A Final Supervision seminar to achieve the Peter Hess ® Sound Massage Practitioner title will take place 3-4 months after all modules have been completed. During this time period you will practice and document case studies and receive professional Peter Hess Sound Massages from a certified Practitioner. Dates for the Final Supervision seminar to be confirmed. This 2-days Final Supervision seminar to certify as Peter Hess® Sound Massage Practitioner is optional and cost is not included in this basic course fee.
Course content:
Information about singing bowls and the development of sound massage
Practice with various instruments: singing bowls, gongs, and cymbals
Personal experience and practice of sound massage followed by group discussion and analysis
Setting for a sound massage, a goal and solution oriented practice
Fundamental principles of sound massage and its effects on different energy levels: body, aura and chakra
Fundamental principles underlining the effects of sound on body, mind and soul
Professional and ethical guidelines
The limitations of sound massage in the context of individual professional competence and the legal implications thereof
This is what former course participants say: "Christine is a wonderful high professional teacher. A perfect course for people who want to raise their vibration and the vibration of others. I highly recommend this course." Richard M., Perriana, Spain
"Super experience the sound massage course. Words fail me to describe what it feels like to receive and give a massage with the bowls. It is at the same time a physical, mental, emotional and spiritual experience! Everything comes together to align your inner self. This course has literally changed my life :) Christine is a beautiful person, it has been a pleasure to meet her and to share this time and space with her. Infinitely grateful." Pablo M., Marbella, Spain
No previous experience or qualifications are necessary for the Intensive Course! You can also participate in individual modules as well as online on levels 1 & 2. If you wish to attend an individual module, please contact me directly for enrolment, cost for individual module participation is at €230.
Modules take place on the following dates: (you choose the dates you wish to attend)
14 - 15 January – Level I
16 - 17 January – Level II – prerequisite Level I
18 - 20 January – Level III & IV - prerequisite Level I & II
and
24 - 25 June – Level I
26 - 27 June – Level II – prerequisite Level I
28 - 30 June – Level III & IV - prerequisite Level I & II
This is a non-residential course. We are happy to assist you with finding accommodation. Detailed information about the organisation and the courses will be sent to you after registration. Closest airport is Malaga (20 minutes drive or 30 minutes by train).
Call + 34 667 43 88 29 or email info@christine-heckel.com for further details or to reserve your place.
Prior to booking please consult