Sales Have Ended
Registrations are closed
THANK YOU FOR YOUR REGISTRATION. YOU WILL RECEIVE THE LOG IN INFORMATION BY EMAIL BEFORE THE EVENT ON JUNE 29TH. CSCMP SPAIN ROUNTABLE
Sales Have Ended
Registrations are closed
THANK YOU FOR YOUR REGISTRATION. YOU WILL RECEIVE THE LOG IN INFORMATION BY EMAIL BEFORE THE EVENT ON JUNE 29TH. CSCMP SPAIN ROUNTABLE
Join us in this online event and stay up to date on Supply Chain Challenges in a Turning Point
About this event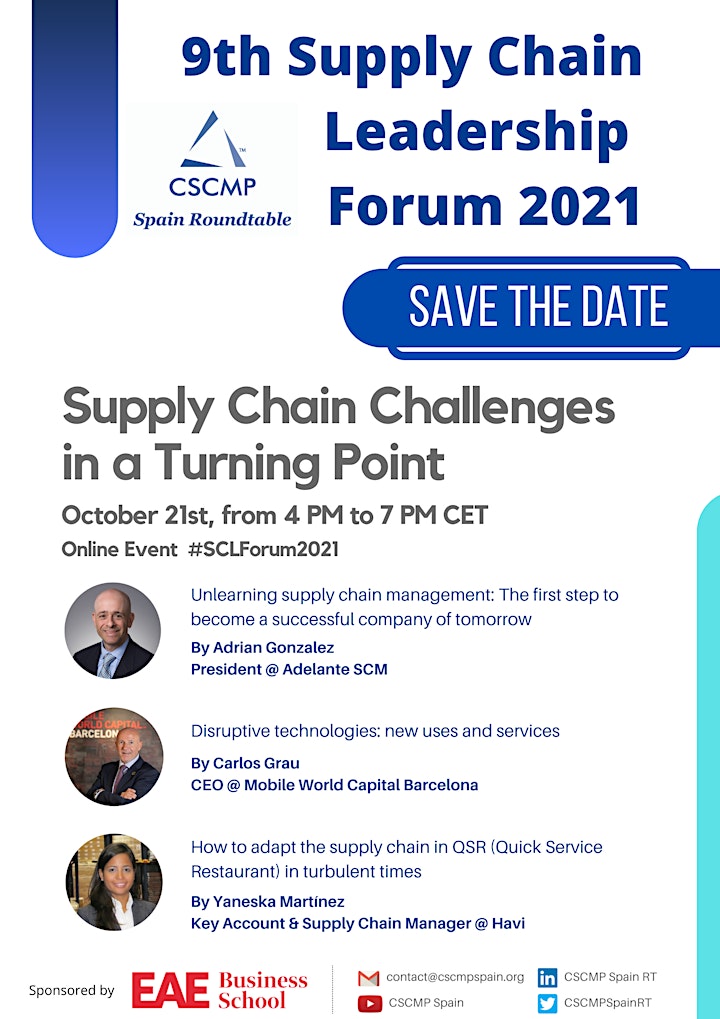 CSCMP Spain RT Events - Sponsored by: EAE Business School
9th SC Leadership Forum 2021 - Supply Chain Challenges in a Turning Point
Join us in this online event and stay up to date on Supply Chain Challenges in a Turning Point
Speakers & topics:
Unlearning supply chain management: The first step tobecome a successful company of tomorrow
By Adrian Gonzalez - President @ Adelante SCM
Disruptive technologies: new uses and services
By Carlos Grau - CEO @ Mobile World Capital Barcelona
How to adapt the supply chain in QSR (Quick ServiceRestaurant) in turbulent times
By Yaneska Martínez - Key Account & Supply Chain Manager @ Havi
AGENDA:
● 16:00 - Hernan Vazquez: Introduction 9th SCL Forum by CSCMP Spain RT
● 16:15 - Adrian Gonzalez: Unlearning Supply Chain Management: The First Step to Becoming a Successful Company of Tomorrow
● 17:00 - Carlos Grau: Disruptive technologies: New uses and services
● 17:45 - Yaneska Martínez: How to adapt the supply chain in QSR (Quick ServiceRestaurant) in turbulent times
● 18:30 - Guillermina Rodriguez: Closure
Where: Webinar - Zoom Meeting
Log-in details will be sent on October 20th
Capacity is limited. Registration will close on September 21st
Organiser of 9th SC Leadership Forum 2021 - Supply Chain Challenges in a Turning Point
Founded in 1963, the Council of Supply Chain Management Professionals (CSCMP) is the preeminent worldwide professional association dedicated to the advancement and dissemination of research and knowledge on supply chain management. With over 8,500 members representing nearly all industry sectors, government, and academia from 67 countries, CSCMP members are the leading practitioners and authorities in the fields of logistics and supply chain management.
CSCMP Spain Rountable wants to provide a global perspective, an end-to-end supply chain scope and great networking by providing events with topics and speakers with international focus and a joint interest to profile CSCMP as a leading European Asociation for supply chain management and logistics.