About this Event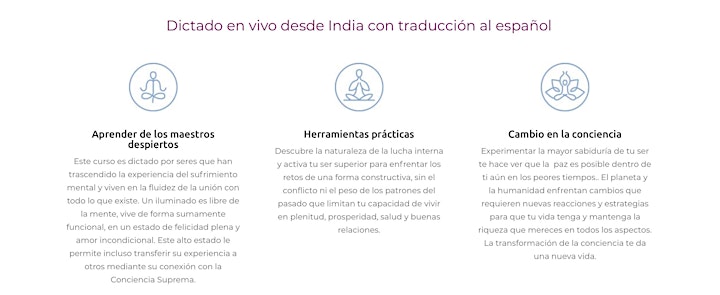 THE COURSE WILL BE OFFERED IN ENGLISH & SPANISH
GOLDEN AGE MOVEMENT PRESENT
JOURNEY IN TO HAPPINESS
Participants of this course will receive energy transfers from a fully enlightened monk in India and will move into different states of awakening during the course of this journey..
Program Agenda:
Ancient Sacred Practices
Ancient Teachings
Ancient Healing Processes
Ancient Yogic Meditations
Powerful Energy Transfers from Enlightened Being
Join us for this all day Retreat of Self Transformation and Experience SHIFTS in Consciousness .
Previous participants have noticed:
• A Calm Mind & Profound Inner Peace
• Deep Awareness & Shift in Consciousness
• Spiritual Growth & deep Energy Clearing & Balancing
• Transformation in Consciousness
• Improved over Health & Well being
• Loving Relationships
• Enhanced Capacity for Success
• Brain Change and an Awakening
• Increase in Physical & Spiritual Energy
The place of event it's in Faena hotel with valet parking without charge
JOURNEY INTO HAPPINESS
Dictado en vivo desde India con traducción al español
Los participantes de este evento han reportado múltiples resultados, incluyendo
Paz interior y mayor estabilidad mental
Alivio del estrés de forma simple y natural
Un impulso hacia la salud y mayor calidad de vida
Visión para procurar la prosperidad y seguridad material
Sanación de las relaciones y los eventos del pasado
Logro de las metas sin detenerse por los obstáculos
No se requiere de conocimiento previo para participar del proceso. Cualquiera que sea tu fe o credo, eres bienvenido a transitar este viaje que te mostrará cómo tu crecimiento espiritual y tu satisfacción en la vida material van de la mano. Regálate un día para ver lo que te impide ser feliz, transformar tu vida y despertar a tu ilimitado poder interior.
El evento será en el Hotel Faena y tiene valet parking sin costo