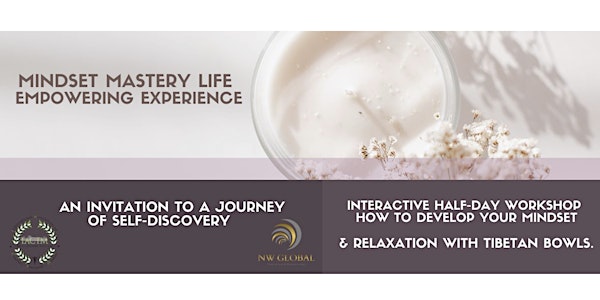 A journey of self-discovery
For those who are interested in self-mastery and personal development, and want to become more confident no matter what's the situation.
When and where
Location
Port D'Es Torrent Carretera Cala Compte n/n 07829 Sant Josep de sa Talaia Spain
About this event
DESCRIPTION
The challenge of living in alignment with your true self while leading a modern life can sometimes lead to frustration, resentment or makes us want to surrender.
This workshop is your opportunity to press the reset button and realign your soul.
This event is designed for those who search for time to declutter and detach from their super busy everyday life.
WHO IS THIS WORKSHOP FOR?
For those who are interested in self-mastery and personal development, and want to become more confident no matter what's the situation. For those who have issues with self-worthiness and self-esteem. For those who aim to become the person who understands the way they tick.
Because flexible thinking and a lighter approach to any negative event can give you more choices and alternatives.
Every day offers so many opportunities to experience the life we want to live. There is so much within us, and around us, that is still unrecognised!
Let's explore, discuss, and experience hand-in-hand, and share our insights together so we all may benefit.
ABOUT THIS EVENT
This event is a half-day outdoor workshop.
During the first part of the event, Nicole will show you how to work on your ability to listen carefully to yourself and others.
After a short tea break, we invite you to 30 min of Relaxation with Tibetan bowls.
Sound has been used in healing rituals around the world since time immemorial, and it's even more impressive with Tibetan Bowls because of their fascinating sound.
The waves of the Tibetan Bowl harmonize the vibrational frequency of our body and create a real internal massage in order to dissolve our fears and traumas stored in the memory of our cells.
To really appreciate the beneficial effects, just close your eyes and listen to the sound, feel the vibrations in your body as in a resonance bubble.
Living the experience of the Tibetan Bowls makes you reach an extraordinary immediate inner serenity.approx
The workshop will be delivered by Nicole Wyrwa, founder of NW Global Coaching& Consulting, a licensed coach and experienced personal development and trainer who practised in Melbourne (Australia), Barcelona, and now arrived to Ibiza.
VENUE
Saturday, 03.09.2022
10:00 – 13:00 (estimated)
LOCATION
Casa Can Arenas -Outside pool area
Port es Torrent, Ibiza
After you have reserved your spot, please contact me at 605 39 80 92 so I can send you the final location by WhatsApp.
Admission: € 45,-
WHAT TO BRING:
Yoga mat
Cushion
Pen & Paper
As this is an outdoor event, make sure to put on sunscreen even though shadow places are available.