A taste of Sri Lanka- A String Hopper Curry Night
About this event
This time about we're going to be savoring delicious String Hoppers, made with rice flour and then steamed to create the most gorgeous Idi-Appa!! I've perfected the recipe after tying numerous rice flours in Barcelona and finally ending up with the perfect mix that truly tastes like String Hoppers that we find back home in Sri Lanka! And now I get to share that with you ☺️
As always accompanied with delicious Curries including a special Mutton Curry I can't wait for you to try!
I'll also have some Hot Toddy brewing to get you settled in to the night !
On the menu :
Main Course
String Hoppers served with the following Curries and accompaniments:
String Hoppers or Indi-appa (In Sinhalese : ඉඳිආප්ප) is made with steamed rice flour that is then pressed in to thin disks with a special String Hopper maker and steamed.
Kiri Hodi or Milk Gravy is a mild but flavorful gravy that is usually always eaten with string hoppers. Flavored with coconut milk, fenugreek, curry leaves and turmeric.
Dhal Curry : Split Red Lentils cooked in coconut milk and tempered spices.
Spicy Mutton Curry.
Pol Sambol : Coconut Sambol that is the soul food of Sri Lankan food culture. Spicy, addictive this Sambol packs all the flavor and boldness of my tiny little island Sri Lanka.
Dessert
CBP
A local favorite but spiced up a little here at Ceylon Affairs!Chocolate Biscuit Pudding!
Dark chocolate & rum infused biscuit pudding in a cinnamon rum creme.
BYOB.
Vegan options available upon request.
A kind note: the String Hoppers in the picture are Red Rice string hoppers but I'll be serving White Rice flour string hoppers on the day.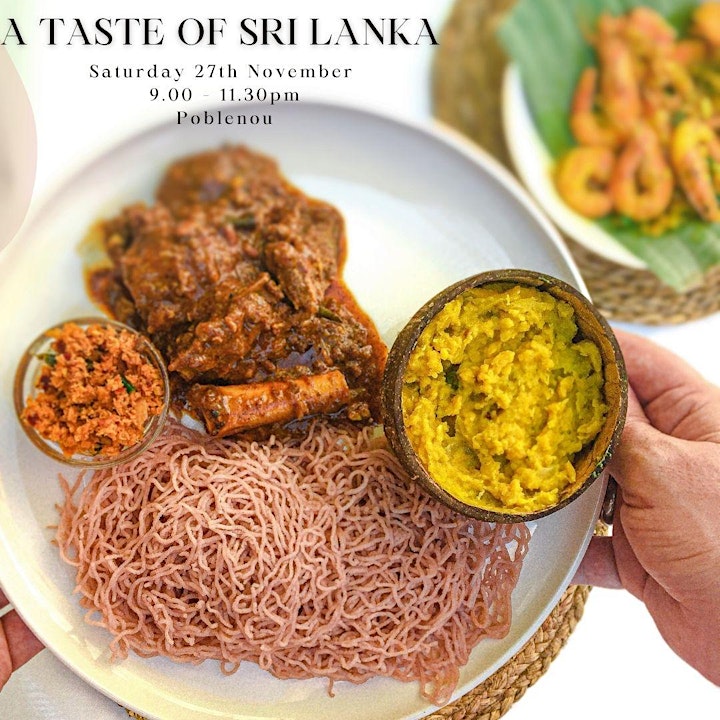 Organizer of A Taste of Sri Lanka : String Hopper Curry Night
OUR CULINARY JOURNEY
Uniquely Delicious Dining Experience
Here is how our typical dinners would start,
You'll be greeted with a glass of cava or hot Toddy while you relax and get acquainted with fellow guests! Setting the right ambience is just as important important to make sure everyone is comfortable and enjoying the moment.
Expect vibrant, bold flavors, a fusion of Sinhalese, Tamil, Malay and Dutch cultures in the from of textures and flavors served up on a plate representing Sri Lanka for what she is, a sunny island that is a multi cultural gastronomic experience!
You will leave with new friends, fellow foodies just like yourself and have a better understanding about a colorful little tropical island, its people, the diverse lively culture and cuisine!
From Jaffna style crab curry to "Wambotu Moju" a recipe that has been passed down in the family: is one of the most unique vegan dishes you will ever savor!
​
So join us for a celebration of coconut, spices, cardamom, curry, sambols - family recipes, good laughs and exotic food!