IE Architecture & Design Experience!
About this event
Advancing your education is a very important and difficult decision. At IE we want to make this decision-making process easier and to be able to guide you along the way.
For this reason, we have crafted this exclusive and high-value event where you will get a full glance of the IE Architecture & Design Experience and network with other peers going through the same process as you. This two-day event is composed of learning sessions with top speakers, social events (wine testing, team building activities etc), and networking opportunities with the IE community.
If you are interested in pursuing a master's degree from the IE School of Architecture and Design and to be able to work and study at the same time, mark your calendar because this is the right event for you!
The agenda is complete, attendees will experience a Masterclass in Design Entrepreneurship, a view on positivity in life and work and review of the alumni experiences.
During this exclusive event, you will also take part in our "Makeathon Competition" on Saturday 16th which will give the opportunity to the winners to get a scholarship in our Master in Business for Architecture and Design. You will also have the chance to meet members from our Admissions and Financial Aid teams and take a sneak peak of what life is like in the classroom.
Come join us on the 15th-16th November in Madrid!
ABOUT OUR "MAKEATHON" COMPETITION CHALLENGE
SATURDAY 16TH NOVEMBER (FROM 11:00H-18:00H)
This is a fun activity that brings together like-minded people from different backgrounds to collaborate and respond to a challenge related to the built environment and the profession of architecture.
Through a combination of brainstorming, field research, discussion with experts and users, prototyping, synthesis and presentation, groups have to interpret the challenge and create innovative ideas to solve it.
We seek desirable, technically feasible and economically viable concepts that can become promising venture projects.
Join us on the 16th November!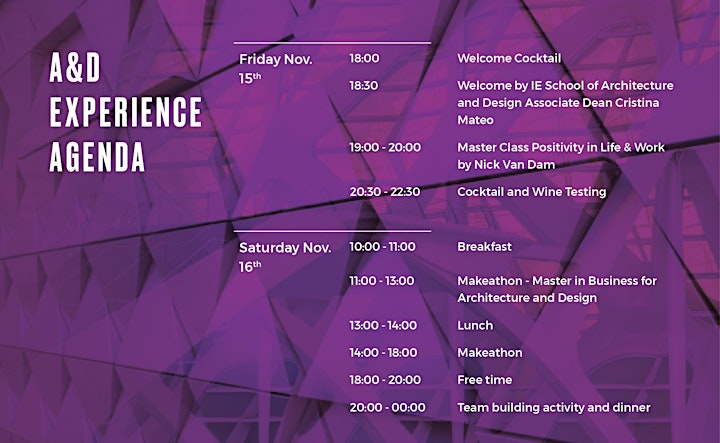 Organizer of A&D Experience