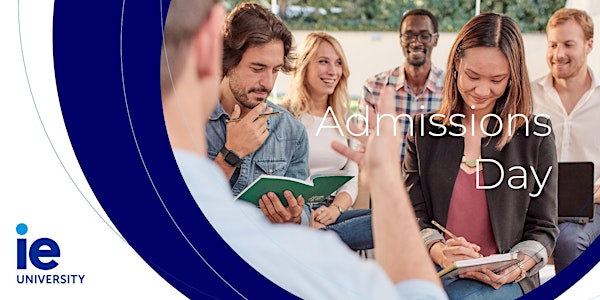 Admission Day - Master Candidates Benelux
Face-to-face Admission Day in Brussels
When and where
Location
Hotel NH Collection Grand Sablon Rue du Commerce 9, 1000 Bruxelles, Belgium 1000 Brussels Belgium
About this event
Ready to discover IE University and its programs? Ready to speed up your admission process? 
Join us at our Admission Day, taking place on Saturday, November 26th, 2022 in Brussels for all candidates residing in Benelux Region. 
This event is designed for Master candidates and for anyone who wants to know more about IE. During this event, participants will be able to learn about what it is like to study at IE University and experience firsthand a session with one of our top professors in an interactive class on Leadership.
In addition, the candidates who have completed their online application, paid their admission fee, and passed the entrance test by November 24th will be given the opportunity to finalize the admission process by completing the personal interview face-to-face during the event. Hence if you have done the three aforementioned steps and want to do the interview face-to-face, please indicate it in the registration form so that you can be assigned a slot.   
AGENDA
10:30 to 11:00 Registration and Welcome Coffee
11:00 to 11:30 Masters Informative Session and Q&A - Learn about IE, the programs we offer and gain insights into the IE experience, student life, financial aid, and the application process
11:45 to 12:45 Master Class Leading Through Innovation: Attitude for Success by Balvinder Powar
13:00 to 15:00: Networking lunch and Personal Interviews** 
** Interviews only for applicants who have submitted their application by Thursday, November 24th (The latest Admission Test accepted is scheduled for November 24th) and are pre-approved by the Admission Department.
APPLICATION PROCESS TIMELINE:
By Thursday, November 24th – Complete 1. Online Application 2. IE Admission Test/GMAT/GRE and 3. Kira Online Assessment.
By Friday, November 25th – Receive the interview notification by email and if confirmed, obtain your unique interview time slot.
Saturday, November 26th – Face-to-Face Admission Day!
By Wednesday, December 2nd  – Receive your final admission decision by email.
MASTER CLASS DESCRIPTION
Leading Through Innovation: Attitude for Success
This Master Class/Workshop deals with how to create an Innovation Culture in your organization using Soft and Hard Skills, Frameworks, and Values. It also touches on Mega Trends and invites the audience to make change happen now.
PROFESSOR BIOGRAPHY
Prof. Balvinder is a Business & Finance graduate who also studied a Masters in Mediation from the University of London. He has extensive experience leading business, social, cultural, media and technology projects in Spain and internationally. His main skills include communications (internal and external), creative & strategic input, business development & senior management, team leadership, relationship management & business mediation.
Currently, he is a Founding Partner, Board Member, and Director at BOOSTER Space Industries and AERDRON, innovative international Aerospace projects/consultancies with important stakeholders globally. He is also an Adjunct Professor and Business Mentor at IE and a qualified and experienced trainer, giving sessions on Leadership, Team Management, and Motivation, Innovation Culture, Mediation/Conflict Resolution Skills, Entrepreneurship, and the New Commercial Space Industry. He also advises many Innovation Projects Globally.