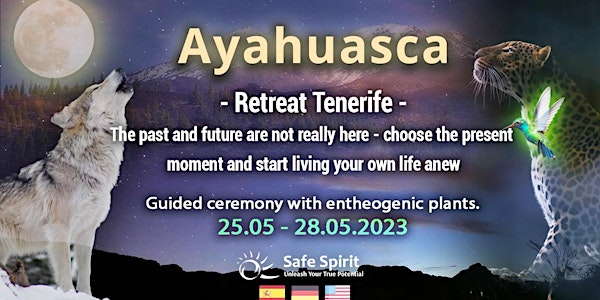 Ayahuasca Retreat Tenerife - Inner Soul Journey for awakening May 2023
Conscious retreat with therapeutic accompaniment of traditional entheogenic plants, which have been used since ancient times.
By Safe Spirit Remedios Ancestrales
Date and time
Thu, 25 May 2023 16:00 - Sun, 28 May 2023 16:00 WEST
Location
38297 San Cristóbal de La Laguna 38297 Santa Cruz de Tenerife Spain
Refund Policy
Refunds up to 30 days before event
About this event
Available languages ​​on the retreat: German, English and Spanish
Ayahuasca Retreat in Tenerife for consciousness and inner awakening guided ceremony with entheogenic plants to unleash your true potentials
Are you sometimes tired of constantly feeling trapped in your own thoughts, daily habits and behaviors? Don't you want instead to live a life that should reflect your true inner values?
There are so many ways we can align our lives in a new positive direction, only we usually get in our own way. What can help us is to discard the old self and exchange it for a new fulfilled self.
This is all easier said than done. With the help of the entheogenic plants it is possible for you to look deep inside yourself and reflect on everything you would like to remove from your life.
In this retreat you will meet yourself, look into your past, become aware of your present situation and with new clarity you can make appropriate life-changing decisions and actions for your own life. A night ceremony lasts about 4- 8 hrs. During this time you go into deep meditative, trance-like states, which enable you to get in touch with your subconscious.
Contact:
Marc: +49 1520 28 33 000 (Telegram / Whatsapp)
Website: https://safe-spirit.com/
You will receive the exact location after booking. The retreat takes place approximately 20 minutes from North Airport.
𝐈𝐧 𝐭𝐡𝐢𝐬 𝐫𝐞𝐭𝐫𝐞𝐚𝐭:
🌟Connection with yourself
🌟Learning to love yourself and others anew
🌟Recognize the causes of your suffering/illnesses and release yourself from them
🌟Self-reflection of your habits and behaviours
🌟Realignment of yourself
🌟Taking the first steps towards a new life with self-responsibility
🌟Discarding the old self, mentally already aligning with the new one
🌟Get deep spiritual insights and knowledge about the eternal being
🌟Get clarity about your illnesses, realize what you are really missing and heal yourself
𝗔 𝗳𝗲𝘄 𝗲𝗳𝗳𝗲𝗰𝘁𝘀 𝗼𝗳 𝗔𝘆𝗮𝗵𝘂𝗮𝘀𝗰𝗮 𝗼𝗻 𝘆𝗼𝘂𝗿 𝗕𝗼𝗱𝘆 𝗮𝗻𝗱 𝗺𝗶𝗻𝗱:
🍃 Bitter substances from the ayahuasca potion provide detoxification of the entire body (especially intestinal and gastric tract).
🍃 Efficacy in addiction, depressive symptoms and anxiety, processing trauma and clarity about one's past
🍃 Deep spiritual insights about life and connection to the greater. (Unity consciousness, strong connection with other people, plants, animals and the universe)
☀️🍀𝐁𝐨𝐝𝐲, 𝐦𝐢𝐧𝐝 𝐚𝐧𝐝 𝐬𝐨𝐮𝐥.
𝐈𝐧 𝐡𝐚𝐫𝐦𝐨𝐧𝐲 𝐰𝐢𝐭𝐡 𝐨𝐮𝐫 𝐢𝐧𝐧𝐞𝐫 𝐚𝐧𝐝 𝐨𝐮𝐭𝐞𝐫 𝐰𝐨𝐫𝐥𝐝. 🍀☀️
The goal of our work is to reconnect with our origin and to get in touch with our very own ground of consciousness. This is the basis to make the unconscious parts in us conscious. In this way, old patterns, concepts, traumas in body, mind and psyche can be released and liberated. Once body, mind and psyche are finally aligned, we get back in touch with our true being. To achieve this, we use different tools, which we apply according to individual needs.
This retreat offers Ayahuasca. In addition, Yopo and Rapé can be taken at night. During the day we offer Kambo and Bufo sessions.
𝐓𝐡𝐞 𝐩𝐫𝐢𝐜𝐞 𝐢𝐧𝐜𝐥𝐮𝐝𝐞𝐬:
🍃 overnight stay in the ceremony hall
🍃 optional 2-3 meals a day; drinks water, tea, coffee
🍃 Rapé sessions
🍃 guided night ceremony with the plants
🍃 integration of the experiences
𝗔𝗰𝗰𝗼𝗺𝗺𝗼𝗱𝗮𝘁𝗶𝗼𝗻
In the house there are double rooms and a shared room. There is also a possibility to stay overnight in the ceremony hall.
Extra room: 25€
In the ceremony hall: free, on a mattress on the floor (pillows, blankets include)
𝗣𝗿𝗼𝗰𝗲𝗱𝘂𝗿𝗲 𝗼𝗳 𝘁𝗵𝗲 𝗿𝗲𝘁𝗿𝗲𝗮𝘁 𝗱𝗮𝘆𝘀:
Up to 3 nights can be booked. We always recommend to stay at least 2 nights, so that the plants can develop appropriate effects in body and mind. In each of the 3 nights we offer Ayahuasca and on the last day alternatively the San Pedro. In the morning after a ceremony night we offer Kambo Session around 9:30am (100€ per session). We usually recommend attending at least 2 nights to get the most benefit for everyday life.
- 𝗙𝗶𝗿𝘀𝘁 𝗱𝗮𝘆: 𝗔𝗿𝗿𝗶𝘃𝗮𝗹 (25.05): On the first day you will get to know us, the area and the other participants. We recommend that you allow enough time upon arrival to prepare for the days ahead (ideally, you should arrive between 3:30pm and 6:00pm). Until the preparation of the ceremony, you can familiarize yourself with the premises. The preparations for the night will start in the evening from about 18:30 to 20:00. It is recommended that you eat only light meals before the ceremony (more information to follow). During the ceremony you will be in a safe space held by us, and you can fully concentrate on your inner process with ayahuasca. The effect of the plants lasts for several hours and well into the night. (approx. 3-6 hours of effect).
- 𝗢𝗻 𝘁𝗵𝗲 𝟮𝗻𝗱 𝗮𝗻𝗱 𝟯𝗿𝗱 𝗱𝗮𝘆 (26.05 - 27.05): we accompany you optionally in a morning session with the frog poison Kambo, which deeply detoxifies body and mind and prepares you for the coming nights. Starting at noon, we integrate the experience in the group from the previous night and additionally (if desired) in a one-on-one setting to deepen our inner processes. We also offer balanced meals for refreshment. In the afternoon you will have the opportunity to rest, explore the surrounding nature and prepare yourself inwardly for the night ceremony night.
- 4𝘁𝗵 𝗱𝗮𝘆 (28.05.2023): Integration session in the afternoon (usually around 2pm), after which you can go home around 4pm. The integration can continue on request for those participants who want additional support in the form of further integration sessions (via Zoom/Skype).
About the organiser
Safe Spirit: A project to develop personal potential. Works with entheogenic plants and traditional shamanic methods to recognize and dissolve obstructive conditioning from upbringing, society and negative thought patterns (neuroplasticity).