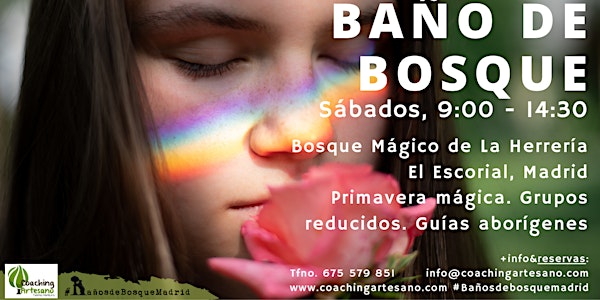 Baño de Bosque sáb 8 Mayo Primavera Bosque La Herrería El Escorial
¿Cómo vas de TDN? Trastorno por Déficit de Naturaleza Descubre con nosotr@s como los bosques te aportan salud y bienestar
When and where
Location
Parking Herreria / Silla Felipe II M-505 28200 San Lorenzo de El Escorial Spain
Refund Policy
Contact the organizer to request a refund.
Eventbrite's fee is nonrefundable.
About this event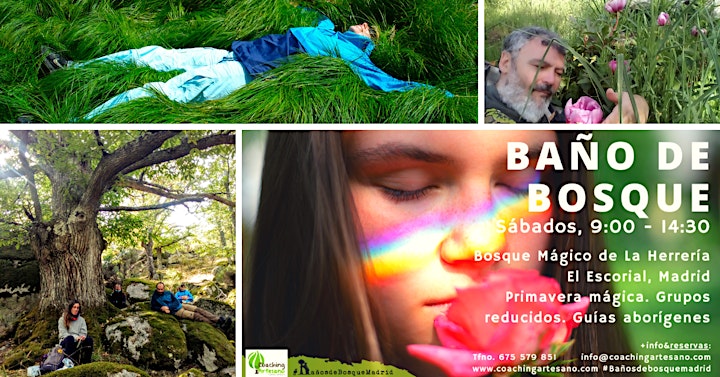 Nuestra itinerario de referencia son las Sendas Ecológicas del Bosque Mágico de la Herrería (San Lorenzo de El Escorial, Madrid). A la magia del bosque sumaremos la magia de la primavera.
El punto de encuentro, inicio y fin de la actividad será Parking Herreria / Silla Felipe II.
Baños de Bosque NO es senderismo, aunque recorreremos preciosos senderos. No es montañismo, aunque estaremos en una magnifica montaña. NO es interpretación naturalista ni histórica del entorno, aunque responderemos sus preguntas como buenos locales. NO es una actividad dirigida a ampliar conocimientos, es una actividad dirigida a los sentidos, que según las últimas investigaciones son más de 10. Una actividad para sentirte "Bosque", ese es nuestro reto.
Baños de Bosque (Shinrin Yoku) es una disciplina de salud y bienestar creada en Japón para contrarrestar el estrés laboral y los efectos de una intensa vida urbana.Parte de las bondades de esta terapia forestal se disfrutan al mantener la atención sensorial plena en "el bosque", es decir eso que llaman "desconectar" y que nosotros llamamos "conectar con un@ mism@ y con la Naturaleza". Esto se consigue a través de dinámicas vivenciales guiadas que buscan mantener un ecotono físico, emocional, mental y nos atrevemos a decir que espiritual. Esa espiritualidad que se genera cuando nos sentimos en armonía con la Natura. En este estado de relajación y bienestar, por ejemplo bajan los niveles de cortisol, hormona del estrés, sentimos más claridad mental, estamos más inspirados, más abiertos y nos sentimos de buen humor.
Otra parte de las bondades de los baños de bosque se captura simplemente "estando" en el bosque, a través de la inhalación de los "fitoncidas" , sustancias volátiles que emiten las plantas, y que por ejemplo aumentan nuestra producción de celulas NK (Natural Killers), es decir, se activa nuestro sistema inmunológico.
Hay más bondades, pero tendrás que venir a descubrirlas...
El requerimiento básico para disfrutar de todos estos beneficios de los baños de bosque es tu intención.
¿Qué traer?
Calzado cerrado y cómodo para caminar, preferiblemente bota. Ropa cómoda, que se pueda ensuciar y adaptada a la previsión meteorológica (por capas: manga larga, forro polar, cortavientos). Un cuadernillo de campo y algo para escribir. Agua y algún tentempié para hacer picnic, estaremos 5 horas en el bosque (ej: sandwich y fruta). Termo pequeño con agua caliente para infusionar plantas del bosque (opcional). 2 Mascarillas (quirúrgica es suficiente), nosotros proporcionaremos gel hidro-alcohólico para lavarse frecuentemente las manos. Una bolsita para desperdicios y una pequeña mochila donde guardar todo. Ah!! y mente abierta para que le entre el aire del bosque...
Disponemos de un "Protocolo de prevención del contagio de coronavirus COVID19" para la ejecución de nuestros baños de bosque. Échale una ojeada por tu seguridad y la de tod@s.
Actividad de dificultad media-baja. Caminata a ritmo lento con paradas para realizar dinámicas y juegos sensoriales en los rincones más sugerentes del bosque. Adaptamos el recorrido a cada grupo. Entre 4 y 5 horas de duración. Ruta de unos 5 km. Con desnivel de menos de 100 m.
Nuestra actividad se desarrolla en armonía con el espacio sagrado donde estaremos. Nos comportaremos con máximo respeto entre nosotr@s, con la vida con la que compartiremos el bosque, residuos cero "lo que va a la montaña vuelve", máxima precaución de incendios, y en resumen, mínimo impacto.
Actividad no recomendada pero autorizada para menores de 12 años (supervisados), y SI aceptamos mascotas que deben ir atadas, valora si tu mascota es compatible con esta actividad donde el silencio es importante, y si decides traerla por favor avisamos para considerarlo en la ruta.
+info&reservas: +34 675 57 98 51 (Txema Ventura) - info@coachingartesano.com www.coachingartesano.com #bañosdebosquemadrid
Temporada de Baños de Bosque Primavera 2021. Si no puedes venir este fin de semana no te preocupes, hacemos baños de Bosque todos los sábados. Grupos super-reducidos. Busca tu fecha y compra tu ticket, asegúrate una plaza.