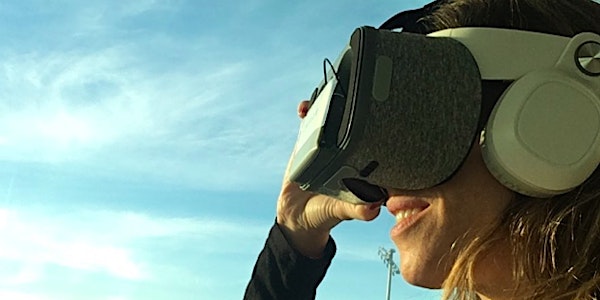 Be a Top Speaker! Hablar en Público con Alto Impacto (IA y RV). MIAMI
Aprende las claves para Hablar en Público con Impacto y prueba la Realidad Virtual e Inteligencia Artificial para mejorar tus habilidades.
By María Gilabert Hernando
When and where
Date and time
Tuesday, March 28 · 5:30 - 7:30pm EDT
Location
Miami Dade College- Wolfson Campus 300 NE Second Ave Business Innovation and Technology Center Miami. Building 2- Nivel 0, Sala Marketing Digital Miami Wolfson Campus 300 NE 2nd Ave Business Innovation and Technology Center MIAMI, FL 33132
About this event
Este evento esta organizado exclusivamente para las socias de WhE Women Executives Association y sus invitados, especialmente representantes de recursos humanos de sus empresas.
En este workshop, Maria Gilabert, psicóloga, coach, fundadora de BeValue y conferenciante internacional, compartirá contigo algunos trucos y claves para eliminar tus miedos y nervios, así como para aprender a Hablar en Público con Alto impacto y, posteriormente, tendrás la oportunidad de experimentar la Realidad Virtual junto a la Inteligencia Artificial que te permitirá poner en práctica lo aprendido. Entreno interactivo gracias a la tecnología para aprender y mejorar como nunca antes habías visto.
Déjate sorprender por la Inteligencia Artificial y Realidad Virtual, con su sistema de análisis del lenguaje natural y sumérgete en un entorno 360º para entrenar tus habilidades. Podrás seleccionar el escenario que más se adecue a tus retos actuales recibiendo a través de un coach virtual un análisis de tu entonación, ritmo, pausas, muletillas y otros consejos para perfeccionar tus habilidades para Hablar en Público a tiempo real.
Be a Top Speaker!
¿Quién dijo que la innovación es complicada?
El futuro ha legado.
¡Te esperamos el 28 de marzo, a las 5:30h en Miami!
Reserva tu plaza.
Lugar donde realizaremos el evento:
Miami Dade College- Wolfson Campus 300 NE Second Ave
Business Innovation and Technology Center Miami.
Building 2- Nivel 0, Sala Marketing Digital
ENGLISH:
BE A TOP SPEAKER!
In this workship Maria Gilabert, pshychologist, coach, BeValue's founder and international speaker, will share some techniques and keys to eliminate your fears and nerves, as well as to learn how to be a top speaker. After that, you will have the opportunity to experience Virtual Reality together with Artificial Intelligence that will allow you top ut into practice what you have learned.
Interactive training thanks to technology to learn and improve like you have never seen before.
Let yourself surprised by Artificial Intelligence and Virtual Reality, with its natural language analysis system and immerse yourself in a 360º environment to train your skills. You will be able to select the scene that best suits with your current challenges by receiving, through a virtual coach, an analysis of your intonation, rythm, pauses, fillers and other tips to perfect your Public Speaking skills in real time and become a Top Speaker!
Who said innovation is complicated?
The future has arrived.
About the organizer
Fundadora de Psicología Feliz y BEVALUE.
Licenciada en Psicología (Universidad Autónoma de Barcelona), Colegiada en Barcelona (número 22377) y Certificada en Coaching (A.C.T.P.).  

María Gilabert es la fundadora de BeValue.  Con 

más de 10 años de experiencia como coach, formadora y conferenciante

 en empresas como Danone, Sanitas, Deloitte, Massimo Dutti… también ha realizado Coaching a altos ejecutivos de empresas como Microsoft, Hesperia o Coty y deportistas de élite como la nadadora olímpica Erika Villaécija o el futbolista Enric Vallés.
Miembro de la Cámara internacional de Conferencistas, Manager de R.P. de ANE (Academia de Neurociencia Internacional), está 

Certificada en DISC y también está Certificada en dinámicas de alto impacto

 como firewalking y más.