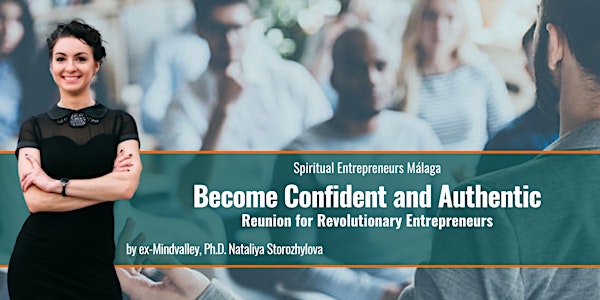 Become a Confident and Authentic Entrepreneur
Do you want to unlock your Confidence and Authenticity? Then come to our Reunion for Revolutionary Entrepreneurs! only 20 tickets available.
By Spiritual Entrepreneurs Costa del Sol
Date and time
Monday, April 10 · 7 - 9pm CEST
Location
Marlife Business Hub 9 Calle Marqués de Larios #3º izquierda y 4 º Planta 29015 Málaga Spain
Refund Policy
Contact the organizer to request a refund.
Eventbrite's fee is nonrefundable.
About this event
About this event
How much would your life change if you were more confident? What would be the decisions you make? The steps you'd take? And the reality you'd live in?
How comfortable would you be in your own skin? How much would you scale your impact? How far would you go? Whom would you attract to your business? And to your life?
Literally, EVERYTHING changes when you reclaim your Self-Confidence and Authenticity. Your business (and your entire life) is a reflection of your authenticity, your confidence, your mindset, your mental models, and, ultimately, your inner universe. Allowing yourself to step into your unshakable confidence helps you to orchestrate your life elegantly and effortlessly and know what's the next rigth step. Transformation starts with a simple intention and happens easier when you are in a tribe of like-minded people.
Thus, we are starting a Reunion for Revolutionary Entrepreneurs with a deep focus on Becoming Confident and Authentic individuals, who say "Yes" to their truest selves.
WHAT CAN YOU EXPECT?
In these 2 hours, you will start understanding how your Higher Self guides YOU to show up in business and personal life to unlock your maximal potential through refreshing guided in-depth discussions/reflections/energy practices that take place at high-level Masterminds. Fun, learning, transformation, and deep connection are the key components. Connecting mindset, soulset, body language & neuroplasticity, and voice. Expect an energizing interactive session in which you directly connect and expand your entrepreneurial tribe. As a bonus, you will get access to the closed tribe to stay accountable for your next steps of unlocking your ultimate authentic and confident self.
During this interactive event, you will reclaim your:
- Personal boundaries
- Will get to use "The wheel of Consent"
- Apply best self-care & self-love practices that nurture your authenticity
- Get activation of the structure of your truest self via IVISIONG (a quantum activation technique, digital ayahuasca)
To:
> Step into a more confident and authentic version of yourself,
> Gain more clarity on the way you talk and carry yourself;
> Solve problems;
> Tackle your goals;
> Speak/connect/relate to people, crowds, or individuals,
> And the way you ask for anything, whether it's an investment, scaling, or date.
This will result in you becoming happier, more present, alive, magnetic, connected, productive, strategic, successful, feeling guided, doing less, but achieving more, and all that in your own skin.
Join our monthly Reunion of Revolutionary Entrepreneurs, to start declaring to the Universe that You are the person who wants to live life authentically, with confidence, pleasure, meaning, impacting and liberating other people, and earn gazillions by doing all this at the highest frequency and from the full alignment with your Higher Self.
Thank you for the honor to support you on this journey. See you there!
About Nataliya Storozhylova:
Nataliya Storozhylova is an ex-Mindvalley, Ph.D, and a serial entrepreneur of transformational EdTech & Well-being startups. Though that hasn't always been the case. "I was so different than other kids that from early age I had to learn to present my differences as my authenticity and strengths, including my super awkward eye-glasses, dental plates and braces that back in history were really rough technology ;D With this I traveled around my country Ukraine, taking part in dance competitions and more and more teens around me would want to get the same dental piercing, as I introduced it, to stand out and be cool. That gave me confidence that anything depends on how we look at our uniqueness and carry it." (from Nataliya's personal story)
Nataliya is a world citizen, born in Ukraine and crystalized the values of freedom and liberation, dignity, honesty, non-judgemental attitude, responsability, and humor. She accelerated in the EU, and gained wisdom in Asia. As an ex-Mindvalley Authors Manager, and later Advisor & Innovator, she stepped into transformational coaching, facilitated by your Higher Self, as an atmalogist (happiness specialist). She bridges science, spirituality & creativity in her transformational journeys. Her mission is to facilitate the evolution of human consciousness, develop an unshakable structure of a personality, applying atmalogia and set of quantum (instant) technologies to stay at a constantly high level of happiness.
Nataliya used to work closely with the founder and CEO of Mindvalley Vishen Lakhiani and world-class mentors Robin Sharma, Steven Kotler, Regan Hylier, Naveen Jain, Keith Ferrazzi, Simon Sinek, Peter Diamandis, Lisa Nichols, Paul McKenna, Emily Fletcher, Ronan Diego de Oliveira Eva & Bartho, etc. to share with you how confident and rich people think and guide you through their mental models.
You might have seen/heard Nataliya at:
Mindvalley stage,
Podcasts
Global startup ecosystem
About the organizer
About the SECdS Community
Spiritual Entrepreneurs Costa del Sol (SECdS) was founded in February 2022 by Andreas because he was new in Málaga and he wanted to get to know like-minded people. When he found out that there were no events for spiritual people in Málaga, he decided to start his own events. After the first wonderful network events for spiritual people, ideas for more events came to Andreas. Guided by his intuition he wanted to create a safe and fun space, where like-minded people can come together, grow, get to know, and support each other.
In the next months, the events got bigger and bigger. Also, the first facilitators joined Andreas and brought their unique talents into the community.
And now one year later in February 2023, it is so beautiful to see what has emerged: A community with over 1.500 people, deep friendships, business collaborations, and especially a lot of personal growth. In the last year, we had 65 official events with different great facilitators. Events like:
Rooftop Parties (a networking event; the event with everything started)
Intentional Business Masterminds
Sound Meditation and Healing
Entrepreneur Mindset Masterclasses
Authentic Relating Games
Confidence and Authenticity Circles
Heart Opening Cacao Ceremonies
Andreas' vision for SECdS is to create a huge network with a lot of different events which help to raise the level of Consciousness in the area around the Costa del Sol.
Over the last year, SECdS grew bigger and bigger. SECdS also became more and more professional in its structures and workflows. Besides Andreas, the first people joined to work on the expansion of SECdS.
As you can see the journey of SECdS is just beginning and we are very excited for the future.
You want to get to know the community?
Then join us at one of our upcoming Rooftop Parties :)
Links to our channels
Official Website:
https://www.andreashofmann.info/spiritual-entrepreneurs-costa-del-sol/
WhatsApp Communities:
https://chat.whatsapp.com/CoashEO7W5FJm5KunJSHOF
Facebook group:
https://www.facebook.com/groups/spiritualentrepreneurscostadelsol
Instagram:
https://www.instagram.com/spiritualentrepreneurscds/
In case you want to say "thank you" and support us in growing the community, please visit the donation page: