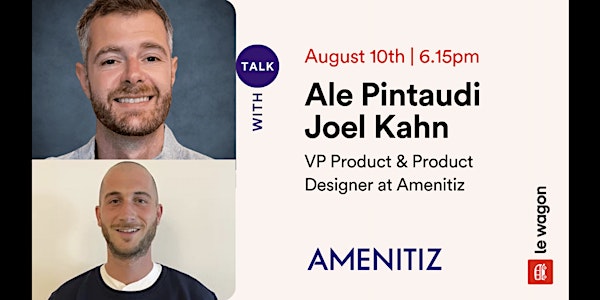 Behind the scenes: How products are built at Amenitiz
Come and learn more about Product at Amenitiz!
About this event
For this exciting Tech Talk, we welcome to the (campus) stage: Alessandro - VP Product and Joel - Product Designer at Amenitiz! 🎉
And you're all invited to watch the livestream, because it's too good for us to keep it to ourselves! 😎
During this talk you will learn more about:
🌟 Amenitiz, its teams and its challenges
🌟 Cross-functional work
🌟 Amenitiz's playbook
About Amenitiz:
Amenitiz (http://www.amenitiz.io) is the first platform that brings together and automates all the digital needs of hoteliers with a website-builder exclusively dedicated to the hospitality industry. Their mission is to build an all-in-one platform to help owners grow and manage their properties by attracting guests, managing bookings, and crafting exceptional experiences.
This Barcelona based company was founded in 2018 by 2 of our wonderful alumni and a few weeks ago they announced a massive funding boost of over €27 million – picking up Spain's largest-ever SaaS Series A round! 🤩
About our speakers:
Ale
Seasoned Product leader, with experience leading multi country and cross-functional product teams in start-up of different sizes. Focusing on team strategy, relationships and coordination to ensure the best in class products are shipped into the market, ensuring they deliver value to both the customers and the business.Developed this product playbook to help teams to align on responsibilities and provide them with a list of tactics to adopt based on the circumstances in order to maximise impact and efficiency.
Joel
Throughout my career, I have become a creative problem solver who loves identifying complex issues and implementing simple solutions. My experience as a startup founder and architect taught me how important effective team collaboration is in aligning the business goals with the user's needs.Amenitiz supports product designers in empathising with their users, as well as finding solutions through a growth-mindset approach. For this reason, we developed a product playbook that helps us achieve our goals faster and more efficiently.
This Tech Talk is brought to you by the #1 rated coding bootcamp worldwide:
Le Wagon emerged in 2014 as one of the first tech bootcamps in France, offering web development and data science programs. Now, it has grown to a robust global community of tech talents with 45 Le Wagon campuses in Amsterdam, Berlin, Lisbon, London, Melbourne, Mexico, Montreal, Singapore, São Paulo, Paris, Tel Aviv, and other cities worldwide.With this expansion, Le Wagon has helped over 13,500 developers, data scientists, designers, and entrepreneurs start their new careers in tech. Eight years on, the school continues to inspire tech aspirants to find their path in the industry.