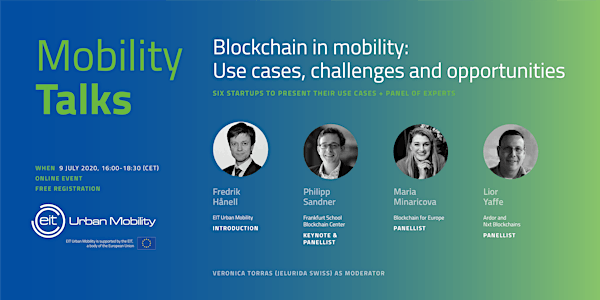 Blockchain in Mobility: Use cases, challenges and opportunities
Learn how blockchain technology is relevant to the urban mobility industry, and get to know startups working on blockchain-based use cases.
About this event
Blockchain technology has entered into many sectors with force. Technology and telecommunications, financial services, logistics and distribution are some of the sectors with the highest adoption. On the other hand, the European Commission believes that urban mobility is one of the industries that will experience most changes in the coming years as a result of technological innovations and changes to citizens' behaviour.
What is the adoption of blockchain technology in this sector? What are the challenges and obstacles facing the industry? Are there sustainable use cases that add value?
To answer these questions, EIT Urban Mobility, with the support of Jelurida's blockchain experts, is organising an online event with experts and startups working in the intersection of mobility and blockchain.
/// AGENDA ///
/// WELCOME AND INTRODUCTION ///
Presentation of the EIT Urban Mobility programme for startups, by Fredrik Hånell, Business Creation Director at EIT Urban Mobility
/// KEYNOTE ///
Blockchain technology in the mobility sector, by Philipp Sandner, Head of Frankfurt School Blockchain Center
/// STARTUPS SHOWCASE ///
ChaingoTech — https://www.chaingotech.com
Changer.com — https://changers.com
Triffic App — https://triffic.app
Cycle4Value — https://www.cycle4value.at
Ride2Park — https://www.dundees.at/ride2park
BorderX — https://www.borderx.eu
/// PANEL OF DISCUSSION ///
Discussion and conclusions from a panel of experts with:
Philipp Sandner, Frankfurt School Blockchain Center
Maria Minaricova, Fetch.ai, Blockchain for Europe
Lior Yaffe, Ardor and Nxt blockchains, Jelurida