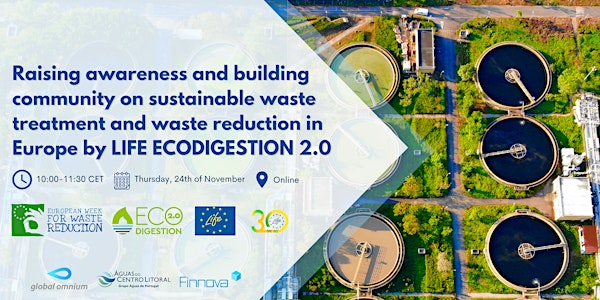 Building a sustainable community on waste reduction in Europe
Raising awareness and building community on sustainable waste treatment and waste reduction in Europe by LIFE ECODIGESTION 2.0
About this event
This EWWR encounter will be focused on creating a community and sharing experiences on sustainable waste treatment strategies. We have invited projects such as BIOMASA – CAP, whose objectives include obtaining new biofuels from waste and is also committed to training and raising awareness of the use of biomass as an energy resource. Another participant would be G2G Algae – the cultivation of micro seaweed as a solution. Our projects panel will also include another LIFE Programme projects.
Our objective is to host experts in the sector such as the Catalan Waste Agency and representatives from the Valencian Comunity as it will be the European Green Capital in 2024.
We believe it is opportune to conclude the event with a round table discussion in which the speakers can contribute on how their organisation/project positions itself with regard to the questions that follow:
I How does your organisation contribute to the latent problem of waste management?
II We are facing a global scenario of unsustainable consumption and production patterns, from your point of view, what is the best way to face this challenge?
III There is also a great lack of awareness on the part of citizens with respect to all the problems mentioned above. If it is already being implemented, can you explain this in more detail?
Raising awareness and building community on sustainable waste treatment and waste reduction in Europe - EWWR
https://ewwr.eu/actions/life-ecodigestion-2-0-present-at-the-european-week-for-waste-reduction/