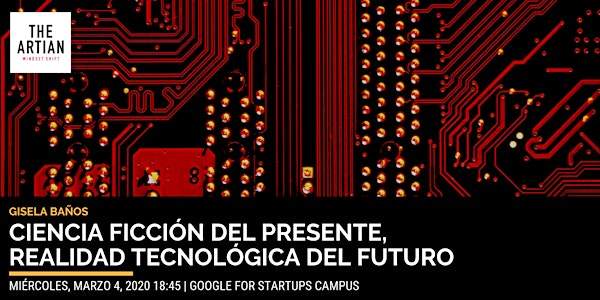 Ciencia Ficción Del Presente, Realidad Tecnológica Del Futuro
Ciencia Ficción Del Presente, Realidad Tecnológica Del Futuro
When and where
Location
Google For Startups Campus Auditorium Calle Manzanares 1 28005 Madrid Spain
About this event
The Artian está feliz de estar de vuelta en Google For Startup Campus Madrid con otro evento de nuestra serie ART X TECH X EMPRENDIMIENTO. Esta vez presentaremos a la escritora de ciencia ficción y fisica Gisela Baños.
En este evento, Baños discutirá el papel de la ciencia ficción en la creación de tecnología.
La ciencia ficción nunca ha pretendido predecir el futuro y, sin embargo, en ocasiones, lo hace. ¿Cómo lo consigue si ese no es su objetivo principal? ¿Con qué mecanismos cuenta y de qué manera podemos usarlos en cualquier otro ámbito profesional? La ciencia ficción, por sus propias características y su naturaleza pluridisciplinar, acoge bajo un mismo paraguas todo tipo de disciplinas humanistas y científicas, lo que la convierte en una de las herramientas más potentes de las que disponemos para entender la realidad y proyectar nuestro pensamiento hacia el futuro.
El evento sera Español.
Programa:
18:45 - Apertura
19:00 - Ciencia ficción del presente, realidad tecnológica del futuro | Gisela Baños
19:50 - Q&A
20: 15 - Networking
Bio:
Gisela Baños estudió física teórica por la universidad de Leipzig y actualmente trabaja en el mundo editorial como correctora y redactora de textos técnicos, de divulgación, ciencia ficción y libros infantiles. Asimismo, imparte cursos y ponencias acerca de la ciencia ficción y sus posibilidades como herramienta creativa y de innovación en programas como el Computer Entrepeneurship Program (CEP) de Immune Technology Institute, o los programas Gaia y Bridge de formación de la Fundación Universidad-Empresa. Ha sido finalista en varios premios literarios de ciencia ficción, como el I Premio Ripley, el III concurso de relatos de ciencia ficción Toshiba Homocrisis y el XIV Premio Galileo de relatos de ciencia y tecnología de la UPCT.
English:
Science fiction has never intended to predict the future, and yet sometimes it does. How does it get it if that is not the main objective? What mechanisms does Science fiction have and in what way can we use them in any other professional field? Science fiction, due to its own characteristics and multidisciplinary nature, welcomes all kinds of humanistic and scientific disciplines under the same umbrella, which makes it one of the most powerful tools we have available to understand reality and project our thinking towards the future
Puedes seguirla en sus redes sociales : Twitter, Instagram, LinkedIn y su pagina web.