Do you have an idea of what will change the future of our cities? Are you excited about tackling urban challenges? This event is for you!
About this event
This online Citython edition will be held in the city of Eindhoven, The Netherlands, and is focused on mobility optimization, traffic safety areas and a healthy city future. The goal of this Citython is that young professionals search for innovative and creative solutions that can be applied in the city of Eindhoven to foster innovation.
This hackathon will provide an opportunity for brilliant young talents to create their works with the help of mentors and experts, who will be on hand throughout the event, while also experiencing the unforgettable thrill of coming together with peers who share the same passion for digital technology and innovation.
📅 Registration deadline:
· Due to the big number of last-minute requests, we will extend the registration process until 24 May - 23:59 CET.
· Teams will be announced on Wednesday 26 May at 9 AM CET via e-mail. Good luck to all participants!
The challenges teams will tackle in the Citython 2021 Eindhoven are:
Challenge 1: Proud to travel to campus, together - The Brainport region is home to the smartest companies in the Netherlands and expanding rapidly. The new way of working in this region also contains travelling to campus locations together. This Collective Private Transportation (CPT) system needs to be as smart as the companies and make the employees proud while using the system.
Challenge 2: School zones and traffic safety - the city is striving for the safe design of all school zones according to the standard design drawn up for Eindhoven.
Challenge 3: Make the city healthy - With this massive influx of new inhabitants, how can we keep the city liveable and green, and its citizens healthy?
Don't forget to indicate, in the registration process, which one you and your team will work on during the Citython 2021 Eindhoven.
During the introductory webinar celebrated on 18 May, invited speakers and specialized mentors shared their knowledge with Techpill Talks about various urban mobility topics related to the city of Eindhoven. The Challenges of the Hackathon were also presented to explain in detail what will be expected from participants. If you didn't have the opportunity to be online, you can see the recorded webinar on the event's web page.
🏆 Awards:
There will be one winning team for each challenge (three winning teams in total), and each of them will receive a financial award of 500€.
👩🏻🧑🏻‍💻Teams:
The hackathon is open to both teams (of three to five people) and individuals of legal adult age from any country in Europe. The event organizers will help participants who sign up individually to team up with other participants in a group. The procedure welcomes all applications and shall not discriminate on the basis of ethnicity, religion, sex, sexual orientation, gender expression, age, or marital status.
🎟️ Participation fee: Citython 2021 Eindhoven is 100% free for all participants. Just apply and get your ticket! By registering you accept the Citython 2021 Eindhoven Terms and Conditions.
More information and draft agenda you can find on the web.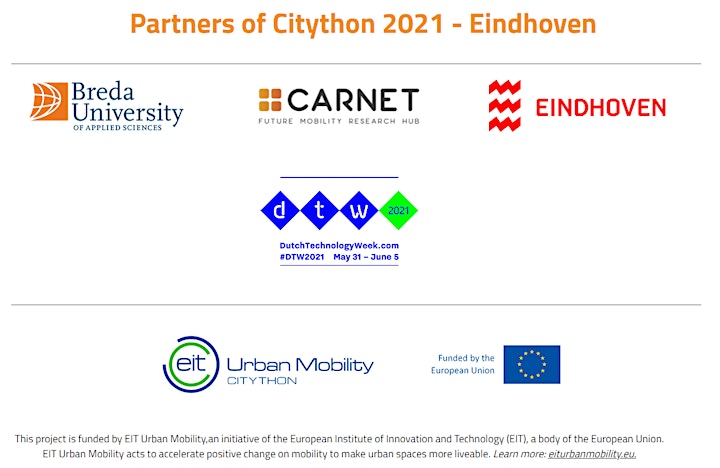 Organiser of Citython 2021 Eindhoven - Online Event
Cooperative Automotive Research Network (CARNET Barcelona)
Initiated by Seat, Volkswagen Research and the Universitat Politècnica de Catalunya (UPC), is an open hub to industrial and academic partners from the areas of automotive and mobility research & innovation, located in Barcelona with project-based collaboration. Its research focus lies on innovations and solutions that close the gap between automotive and urban mobility.