Do you have an idea of what will change the future of our cities? Are you excited about tackling urban challenges? This event is for you!
About this event
This online Citython edition will be held in the city of Hamburg, Germany. This year edition is focused on the increasing level of active mobility and the fully automated driving experience in the City of Hamburg.
The goal of this Citython is that young professionals search for innovative and creative solutions that can be applied in the citiy of Hamburg to foster innovation.
This hackathon will provide an opportunity for brilliant young talents to design new solutions with the help of mentors and experts, who will be on hand throughout the event, while also experiencing the unforgettable thrill of coming together with peers who share the same passion for digital technology and innovation.
💻 Challenges:
The challenges teams will tackle in the Citython 2021 Hamburg are:
Challenge 1: Increase the level of active mobility in the City of Hamburg - Privately owned vehicles can be considered as the favourite mode of transport going in and out of the city of Hamburg. Purposes for trips range widely between leisure and daily commute but have one thing in common: they create traffic jams or generally slow traffic (especially at peak hours morning and afternoon) along with emissions and noise due to the high amount of cars with mostly just one driver. This calls for solutions that go beyond any restrictions of parking spaces in the city.
Challenge 2: Automated driving in the City of Hamburg - Fully automated driving is often seen as the way we travel in the future. Today however there are many challenges to be solved before this vision turns into reality. Autonomous driving needs to be safe and is hence restricted under German governmental law and does not allow vehicles to drive fully autonomous on public roads without special permission. Communication between the car and its surroundings is a crucial element to autonomous driving as well as the coherent decision making based on the input of a car´' sensors.
Challenge 3: Making public spaces usable - Population and production growth have resulted in a demand for higher capacities of urban transportation systems. Today, traffic is the number one occupier of public space in Hamburg. That has not only led to unsatisfactory conditions in regards to traffic flow and traffic jams but has also decreased the availability of local recreational areas. Making more public space usable again for the residents, therefore, calls for innovation and creative approaches. Help us develop a concept for making more public space usable by interlinking innovative transportation systems with sustainable concepts and attractive social offers!
Don't forget to indicate, in the registration process, which one you and your team will work on during the Citython 2021 Hamburg.
🏆 Awards:
There will be one winning team for each challenge (three winning teams in total), and each of them will receive a financial award of 500€. Along with the cash prizes the winners will also get the opportunity to present their solutions during the Smart City Expo World Congress 2021.
👩🏻🧑🏻‍💻Teams:
The hackathon is open to both teams (of three to five people) and individuals of legal adult age from any country in Europe. The event organizers will help participants who sign up individually to team up with other participants in a group. The procedure welcomes all applications and shall not discriminate on the basis of ethnicity, religion, sex, sexual orientation, gender expression, age, or marital status.
🎟️ Participation fee: Citython 2021 Hamburg is 100% free for all participants. Just apply and get your ticket!
More information about the previous editions you can find on the web.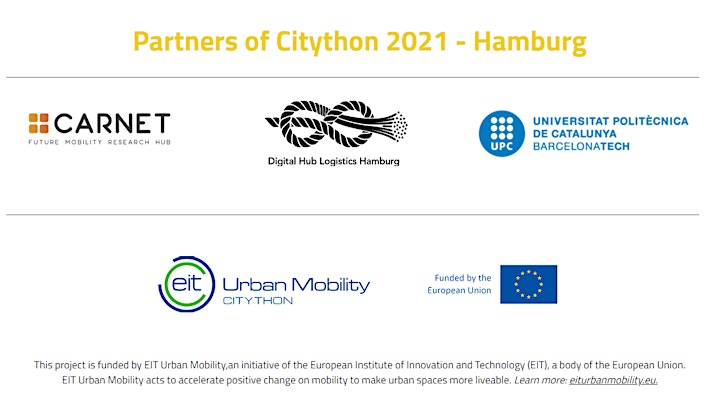 Organiser of Citython 2021 Hamburg - Online Event
Cooperative Automotive Research Network (CARNET Barcelona)
Initiated by Seat, Volkswagen Research and the Universitat Politècnica de Catalunya (UPC), is an open hub to industrial and academic partners from the areas of automotive and mobility research & innovation, located in Barcelona with project-based collaboration. Its research focus lies on innovations and solutions that close the gap between automotive and urban mobility.