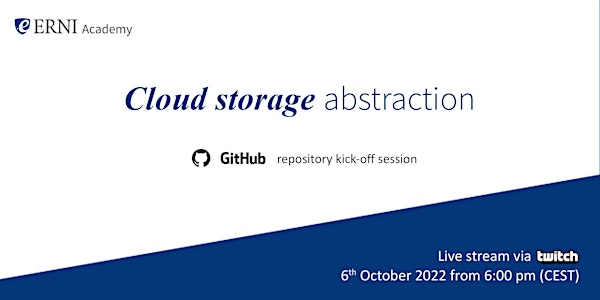 Cloud Storage Abstraction Kick-off session
Get started with ERNI's Cloud Storage Abstraction repository in GitHub
About this event
ERNI is now in GitHub!
Check out the kick-off session of our Cloud Storage Abstraction repository in GitHub.
Azure Blob storage is Microsoft's object storage solution for the cloud. Blob storage is optimized for storing massive amounts of unstructured data. Unstructured data is data that doesn't adhere to a particular data model or definition, such as text or binary data.
Blob storage is designed for:
Serving images or documents directly to a browser
Storing files for distributed access
Streaming video and audio
Writing to log files
Storing data for backup and restore, disaster recovery, and archiving
Storing data for analysis by an on-premises or Azure-hosted service
Cloud Storage Abstraction is a small dll(on the next iteration, it will be a nuget package) that provides a robust and reusable implementation.
With this package, we standardize the usage and implementation of Azure Storage Blobs in all your code.
With this implementation, you have both publish and subscriber clients available at one sight.
FREE tickets now available!
Speaker: Manuel Delgado
You can follow us on our Twitch channel: ERNI Academy