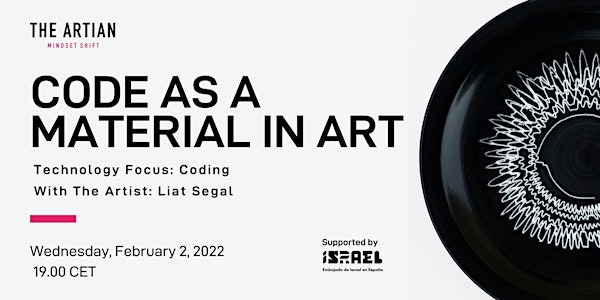 Code as a Material in Art | Artists Teach Tech Online Series
Get immersed in the world of creative technology and learn how artists are implementing and materializing technology in unique ways
About this event
This workshop, as part of the Artist Teach Tech workshop series, led by contemporary media artist, Liat Segal, fuses art and technology together; introducing code as a working material for art.
Open-source culture and communities make more and more technological creative tools and development environments accessible to people with non-tech backgrounds. In the workshop, we will introduce a few of these tools for developing software and hardware in the context of art and design. We will go through examples of the creative use of sensors, motors, controllers, and software.
Language of the workshop: English
*No prior knowledge is required*
About the artist:
Liat Segal - a contemporary media artist, with an academic background in Decision Analysis and Complex Systems as well as Computer Science and Biology; and experience working in Microsoft Innovation Labs. Segal fuses art and technology, materializing digital, through the use of software, mechanics, and information.
About the Series:
Technology influences every aspect of our life, as such, it has even become the working material for many artists. Artworks of this nature often challenge the typical use of technology, criticize it, blend it, and offer a new perspective.
Supported by The Israeli Embassy in Spain, in this workshop series, we will witness and explore the collaboration between art and tech to inspire curiosity and spark creativity. Four artists will teach four different aspects of technology. We will learn about the diverse application of coding languages, big data, machine learning, and blockchain in creative and unexplored territories.
There will be four separate workshops during February 2022 led by artists where they will showcase their unique approach to technology and art. These artists challenge the boundaries of what we can do with technology and reveal new relationships between art and technology.
*No prior knowledge or experience is required!*
*Each workshop is independent and doesn't require your participation in past or future events.*
*enrollment for each workshop will be separate - registration is per event*
*recordings would NOT available.*