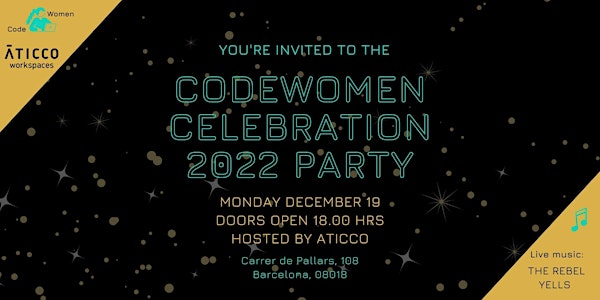 CodeWomen presents: the CodeWomen CELEBRATION 2022 Dec 19, hosted by Aticco
CodeWomen organises the CODEWOMEN CELEBRATION 2022 PARTY on December 19 from 18.30 to 21:30 hrs hosted by Aticco (doors open at 18.00) ⏬ ES
Date and time
Monday, December 19, 2022 · 6:30 - 9:30pm CET
Location
C. de Pallars, 108 108 Carrer de Pallars 08018 Barcelona Spain
About this event
CodeWomen Celebration 2022 Party on December 19, hosted by Aticco
(Traducción al español ⏬ debajo del texto en inglés)
2022 was a fantastic year for CodeWomen! Our community grew from 85 members to almost 500!! 🚀 More and more tech women in Barcelona joined our events and coding sessions, and we are connecting all of you through CodeWomen.
Come celebrate with us!
The programme starts at 18.30 hrs. There will be a meet-new-people activity, we will look back at what we have achieved in 2022, and we'll toast on 2023.
There will be food & drinks, provided by our generous sponsors Elastic and ThoughtWorks. There is lots of space to hang out and enjoy the band: The Rebel Yells.
Interested in joining CodeWomen? Follow us on LinkedIn and on Eventbrite and stay tuned for our announcements of the Open Coding Nights, and other events.
🎶 About the band The Rebel Yells 🎸
The Rebel Yells is a women and non-binary millennial-heart band that plays 60's to 00's hits. We are Sara (lead singer), Einar (drums), Marta (bass guitar), Geo (saxo) and Carmen (guitar player).
IG account: the_rebel_yells Youtube: https://youtu.be/cLmKlgmcRJw, https://youtu.be/ngY0Qkyp208
👩🏾‍💻 Who can participate? 👩‍💻
This meeting is for women+ (inclusive of trans and non-binary) from all backgrounds who are learning to code or working in tech. You are a bootcamp student or learning by yourself, a graduate looking to apply for a job in tech or already a professional developer. We always have English and Spanish speakers, plus a lot of other languages.
🔐 Secure your spot now 🔐
This meeting will take place on December 19, from 6.30pm to 9.30pm at Aticco (doors open at 6pm), and you can already save your spot! Attendance is limited and you absolutely need to register.
Location: C. de Pallars, 108, 08018 Barcelona. Nearest Metro station: Bogatell (line 4)
👩🏾‍💻 👩🏼‍🎓 About CodeWomen 👩‍💻 👩🏽
CodeWomen is a community in Barcelona for women, by women, of about 500 tech women. Our goal is to support and empower women who want to make a career change into tech. We meet three times a month in different locations, to network, work on coding projects, help each other, and get career advice and tips from other women developers. CodeWomen was born in July 2020 within Open Cultural Center, a non-profit supporting refugees and migrants in Barcelona. The project is managed by Henriette Hettinga, who herself made a career change by starting to programme a few years ago. Read more about CodeWomen and follow us on LinkedIn and Eventbrite. Contact: henriette@openculturalcenter.org.
🗣️ About Aticco 👩‍💻
Aticco is an innovative ecosystem for entrepreneurs, startups and companies that helps to connect people and projects to make them blossom. We add value to our community by building connections, promoting the creation of opportunities and offering the flexibility that modern societies demand. Our brands Aticco Workspaces, Aticco Living and AticcoLab promote new and disruptive models of Work&Life. Our goal is to boost innovation, collaboration and fun so that we can have a positive impact in people's lives as well as in organizations. Find us on LinkedIn: Aticco Workspaces
🤝🏾 Code of Conduct 🤝
CodeWomen is meant to be a safe space, for learning and exchange as well as support and encouragement. Whilst working together we're dedicated to providing a harassment-free community for everyone, regardless of gender identity and expression, sexual orientation, disability, physical appearance, body size, race, religion, and programming background. We do not tolerate harassment of community participants in any form.
📞 Contact ⏰
If you would like to be added to our WhatsApproup to receive last minute updates about the event such as reminders, changes, or cancellations, please contact us through the "Contact the organizer" link in your ticket.
Te esperamos en el "CodeWomen Celebration 2022 Party" el 19 de diciembre en Aticco
CodeWomen te invita a celebrar el fin de año el 19 de diciembre de 18:30 a 21:30 hrs. Ven a escuchar música, conectar con otras mujeres y pasarlo bien!
¡2022 fue un año fantástico para CodeWomen! ¡¡Nuestra comunidad creció de 85 miembros a 500!! 🚀 Muchas mujeres que trabajan en tecnología en Barcelona se enteraron de nuestros eventos y sesiones de programación, y nos estamos conectando todas a través de CodeWomen.
¡Ven a celebrarlo con nosotras!
El programa comienza a las 18.30 horas. Habrá una actividad para conocernos todas, echaremos la vista atrás para celebrar todo lo que hemos conseguido en 2022 y brindaremos por el 2023.
Habrá comida y bebidas, ofrecidas por nuestros generosos patrocinadores Elastic y ThoughtWorks. Hay mucho espacio para pasar el rato y disfrutar de la banda: The Rebel Yells.
¿Estás interesada en unirte a CodeWomen? Síguenos en LinkedIn y en Eventbrite y mantente informada de nuestros próximos eventos.
🎶 Sobre la banda 🎸
The Rebel Yells es una banda de mujeres y no-binarixs, millennial-heart que toca éxitos de los años 60 a 2000. Somos Sara (cantante principal), Einar (batería), Marta (bajo), Geo (saxo) y Carmen (guitarrista).
Cuenta IG: the_rebel_yells Youtube: https://youtu.be/cLmKlgmcRJw, https://youtu.be/ngY0Qkyp208
👩🏾‍💻 ¿Quién puede participar? 👩‍💻
Este encuentro es para mujeres+ (incluyendo trans y no binarias) de todos los orígenes. Eres la bienvenida sea cual sea tu nivel, ya seas estudiante de bootcamp o aprendiendo por tu cuenta, graduada buscando trabajo o profesional del sector tecnológico. Usamos el inglés durante las reuniones, pero la mayoría de nuestras voluntarias y participantes también hablan español u otros idiomas.
🔐 Regístrate ahora 🔐
Este encuentro tendrá lugar el 19 de diciembre, de 18:30 a 21:30 hrs en Aticco Bogatell (puertas abiertas desde las 18.00 hrs), ¡y ya puedes reservar tu plaza! La asistencia es limitada por lo que la inscripción a través de esta página es absolutamente necesaria.
Address: C. de Pallars, 108, 08018 Barcelona. Estación de metro más cercana: Bogatell (linea 4)
👩🏾‍💻 👩🏼‍🎓 Sobre CodeWomen 👩‍💻 👩🏽
CodeWomen es una comunidad en Barcelona para mujeres, por mujeres, con 500 mujeres del sector TIC. Nuestro objetivo es apoyar y empoderar a las mujeres que quieren hacer un cambio de carrera hacia la tecnología. Nos reunimos tres veces al mes en diferentes lugares, para establecer contactos, trabajar en proyectos de programación , ayudarnos mutuamente y obtener consejos profesionales y sugerencias de otras mujeres desarrolladoras. CodeWomen nació en julio de 2020 dentro de Open Cultural Center, una ONG que apoya a los refugiados y migrantes en Barcelona. El proyecto está gestionado por Henriette Hettinga, que ella misma dio un giro a su carrera al empezar a programar hace unos años. Lee más sobre CodeWomen y síguenos en LinkedIn y Eventbrite . Contacto: henriette@openculturalcenter.org.
🗣️ Sobre Aticco 👩‍💻
Aticco es un ecosistema innovador para emprendedores, startups y empresas que ayuda a conectar personas y proyectos para hacerlos florecer. Agregamos valor a nuestra comunidad construyendo conexiones, promoviendo la creación de oportunidades y ofreciendo la flexibilidad que demandan las sociedades modernas. Nuestras marcas Aticco Workspaces, Aticco Living y AticcoLab promueven modelos nuevos y disruptivos de Work&Life. Nuestro objetivo es impulsar la innovación, la colaboración y la diversión para que podamos tener un impacto positivo en la vida de las personas y en las organizaciones. LinkedIn Aticco Workspaces
🤝🏾 Código de conducta 🤝
CodeWomen pretende ser un espacio seguro, de aprendizaje e intercambio, así como de apoyo y estímulo. Mientras trabajamos juntos, nos dedicamos a proporcionar una comunidad libre de acoso para todos, independientemente de la identidad y expresión de género, la orientación sexual, la discapacidad, la apariencia física, el tamaño del cuerpo, la raza, la religión y los antecedentes de programación. No toleramos el acoso a los participantes de la comunidad en ninguna de sus formas.
📞 Contacto ⏰
Si quieres que te añadamos a nuestro grupo de WhatsApp para recibir actualizaciones de última hora sobre el evento, como recordatorios, cambios o cancelaciones, por favor escríbenos a través del enlace "Contacta con el organizador del evento" en tu entrada.