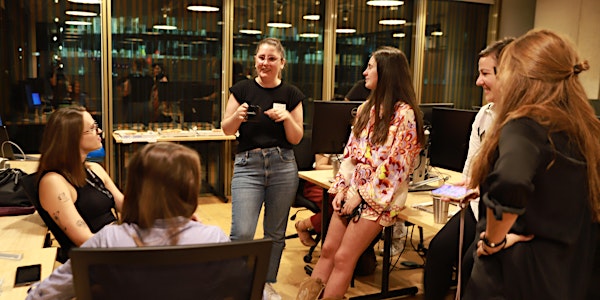 CodeWomen presents: UX/UI Corner (during coding event on December 12)
Join our UX/UI women in CodeWomen's new UX/UI Corner, during the Coding with Coaches session organised on December 12 at Apiumhub (ES ⏬ )
When and where
Location
Passeig de Gràcia, 28, 4o 28 Passeig de Gràcia #4o 08007 Barcelona Spain
About this event
(Traducción al español ⏬ debajo del texto en inglés)
Yes, this is new in CodeWomen: our UX/UI Corner, a space where our UX/UI designers and researchers can get together and meet!
Please note: this takes place during the Coding with Coaches session that CodeWomen organises at the same time, in the same space.
Why a UX/UI Corner? CodeWomen is not only about 'coding', we have many women designers in our community. How about getting together, to share your experience, to talk about your projects, new developments, best practices, tools and ideas?
👩🏾‍💻 Who can participate? 👩‍💻
This meeting is for women+ (inclusive of trans and non-binary) from all backgrounds. You are a bootcamp student or learning by yourself, a graduate looking to apply for a job or already a professional designer. We use English during the meetings but most of our volunteers and many participants speak Spanish or other languages too.
🔐 Secure your spot now 🔐
This meeting will take place on December 12th, from 7pm to 9:30 pm at Apiumhub, and you can already save your spot! Attendance is limited and you absolutely need to register. All you need is your computer, yoir motivation and to be on time. We have spare laptops you can borrow if you need one (please let us know in advance if you need one)..
Location: Passeig de Gràcia, 28, 4o, 08007 Barcelona
Closest metro: Passeig de Gracia (line 2, 3 and 4)
👩🏾‍💻 👩🏼‍🎓 About CodeWomen 👩‍💻 👩🏽
CodeWomen was born in July 2020 within Open Cultural Center, a non-profit supporting refugees and migrants in Barcelona. Our goal is to support and empower women who want to make a career change into tech. We meet three times a month in different locations, to network, work on coding projects, help each other, and get career advice and tips from other women in tech. The project is managed by Henriette Hettinga, who herself made a career change by starting to programme a few years ago. Read more about CodeWomen and follow us on Linkedin and Eventbrite. Contact: henriette@openculturalcenter.org.
🖥️ About Apiumhub 💾
Apiumhub is a software development hub solving complex problems with high quality solutions. Our purpose is to build scalable software, helping our clients (Mango, Inditex, Neste, Axa, Zara, Etnia, Adidas, Tous, etc.) to strengthen their business with powerful technology. We help developers to get better through our practical workshops and courses in Apium Academy. We believe in constant improvement and growth. We regularly host and participate in software development events as well as organize Global Software Architecture Summit. Apiumhub is a safe place for self-development. It connects great minds, creating a pool of renewable knowledge. Working at Apiumhub implies constant development and teamwork. Every member of the team has its own personalized career path within the company, but at the same time we all grow together as professionals and as Apiumhub brand. Follow us on LinkedIn and Twitter, and check our job offers here.
🤝🏽 Code of Conduct 🤝🏽
CodeWomen is meant to be a safe space, for learning and exchange as well as support and encouragement. Whilst working together we're dedicated to providing a harassment-free community for everyone, regardless of gender identity and expression, sexual orientation, disability, physical appearance, body size, race, religion, and programming background. We do not tolerate harassment of community participants in any form.
📞 Contact ⏰
If you would like to be added to our WhatsApp group to receive last minute updates about the event such as reminders, changes, or cancellations, please contact us through the "Contact the organizer" link in your ticket.
Nuevo en CodeWomen: el UX/UI Corner para todas las mujeres diseñadoras en Barcelona
¡Sí, esto es nuevo en CodeWomen: nuestro UX/UI Corner, un espacio donde nuestras diseñadoras e investigadoras de UX/UI pueden reunirse y conocerse!
Nota: este encuentro tendrá lugar durante la sesión de Coding with Coaches que CodeWomen organiza al mismo tiempo, en el mismo lugar.
¿Por qué un UX/UI Corner? CodeWomen no es sólo desarollo web o programación, también hay muchas mujeres diseñadoras en nuestra comunidad. ¿Qué tal si nos reunimos para compartir nuestra experiencia, hablar de nuestros proyectos, nuevos desarrollos, mejores prácticas, herramientas e ideas?
👩🏾‍💻 ¿Quién puede participar? 👩‍💻
Este encuentro es para mujeres+ (incluyendo trans y no binarias) de todos los orígenes. Eres la bienvenida sea cual sea tu nivel, ya seas estudiante de bootcamp o aprendiendo por tu cuenta, graduada buscando trabajo en el sector tecnológico o ya diseñadoras profesional. Usamos el inglés durante las reuniones, pero la mayoría de nuestros voluntarias y participantes también hablan español u otros idiomas.
🔐 Regístrate ahora 🔐
Este encuentro tendrá lugar el 12 de diciembre, de 19.00 a 21.30 horas en las oficinas de Apiumhub, ¡y ya puedes reservar tu plaza! La asistencia es limitada por lo que la inscripción a través de esta página es absolutamente necesaria. Lo único que necesitas es tu motivación, algunos snacks para compartir, ¡y llegar a tiempo! Tenemos algunos ordenadores de repuesto que puedes pedir prestadas en caso de que no tengas (por favor avísanos con antelación si lo necesitas).
Lugar: Passeig de Gràcia, 28, 4o, 08007 Barcelona
Metro más cercano: Passeig de Gracia (linea 2, 3 and 4).
👩🏾‍💻 👩🏼‍🎓 Sobre CodeWomen 👩‍💻 👩🏽
CodeWomen nació en julio de 2020 en el seno de Open Cultural Center, una ONG que apoya a los refugiados y migrantes en Barcelona. Nuestro objetivo es apoyar y empoderar a las mujeres que quieren hacer un cambio de carrera hacia la tecnología. Nos reunimos tres veces al mes en diferentes lugares, para establecer contactos, trabajar en proyectos de codificación, ayudarnos mutuamente y obtener consejos profesionales de otras mujeres que trabajan en tech. El proyecto está gestionado por Henriette Hettinga, que cambió de carrera al empezar a programar hace unos años. Lee más sobre CodeWomen y síguenos en LinkedI. y Eventbrite. Contacto: henriette@openculturalcenter.org.
🖥️ Sobre Apiumhub 💾
Apiumhub es un centro de desarrollo de software que resuelve problemas complejos con nuestras soluciones de alta calidad. Nuestro objetivo es construir software escalable, ayudando a nuestros clientes, chupadores como Mango, Inditex, Neste, Axa, Zara, Etnia, Adidas, Tous, etc. a fortalecer su negocio con tecnología potente. Ayudamos a los desarrolladores a mejorar a través de nuestros talleres prácticos y cursos en Apium Academy. Creemos en la mejora y el crecimiento constantes. Regularmente organizamos eventos de desarrollo de software y participamos en ellos, así como organizamos Global Software Architecture Summit. Apiumhub es un lugar seguro para el autodesarrollo. Conecta las grandes mentes, creando una reserva de conocimiento renovable. Trabajar en Apiumhub implica un desarrollo constante y trabajo en equipo. Cada miembro del equipo tiene su propia trayectoria profesional personalizada dentro de la empresa, pero al mismo tiempo todos crecemos juntos como profesionales y como marca Apiumhub.
Consulta nuestras ofertas de trabajo aquí.
🤝🏽 Código de conducta 🤝🏽
CodeWomen pretende ser un espacio seguro, de aprendizaje e intercambio, así como de apoyo y estímulo. Mientras trabajamos juntas, nos dedicamos a proporcionar una comunidad libre de acoso para todos, independientemente de la identidad y expresión de género, la orientación sexual, la discapacidad, la apariencia física, el tamaño del cuerpo, la raza, la religión y los antecedentes de programación. No toleramos el acoso a los participantes de la comunidad en ninguna de sus formas.
📞 Contacto ⏰
Si quieres que te añadamos a nuestro grupo de WhatsApp para recibir actualizaciones de última hora sobre el evento, como recordatorios, cambios o cancelaciones, por favor escríbenos a través del enlace "Contacta con el organizador del evento" en tu entrada.