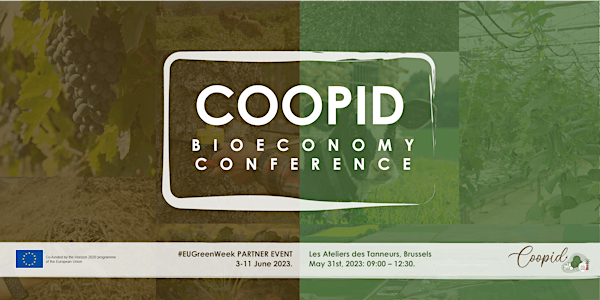 COOPID Bioeconomy Conference
COOPID organises a project final event to deliver its final recommendations to policy makers, academia and primary sector stakeholders.
Date and time
Wed, May 31, 2023 9:00 AM - 12:30 PM CEST
Location
Les Ateliers des Tanneurs 60A Rue des Tanneurs 1000 Bruxelles Belgium
Agenda
9:00 AM - 9:15 AM
REGISTRATION
9:15 AM - 9:30 AM
9:15-9:30 Institutional welcome
Colombe Warin (Project Officer, European Commission)
---
Project Adviser, REA B3- Biodiversity, Circular Economy and Environment & COOPID Project Officer
9:30 AM - 9:45 AM
The COOPID project
Juan Sagarna (Cooperativas Agro-alimentarias de España)
Susana Rivera (Cooperativas Agro-alimentarias de España)
---
Presentation of the project by the project coordinator.
9:45 AM - 10:45 AM
Round table "Innovation in the primary sector. The power of cooperation"
Iñigo Rodilla (Innovarum, moderator)
---
Participants: Laura Liepina (Policy Officer - Seconded National Expert - DG Research & Innovation, Bioeconomy & Food Systems), James Gaffey (Co-Director of the Circular Bioeconomy Research Group (Cir...

10:45 AM - 11:00 AM
COFFE BREAK// NETWORKING // EXHIBITION
11:00 AM - 11:45 AM
Short panels: lessons learnt
Camile Poutrin (Greenflex, moderator)
Tracey O Connor (MTU, moderator)
---
Panel 1: "Demonstration visits", a useful tool to showcase best practices in the bioeconomy. Moderator: Camile Poutrin (Greenflex). Participants: Success case representatives and COOPID ambassadors. ...

11:45 AM - 12:15 PM
The COOPID outcomes: recommendations for stakeholders
Carina Folkeson (Expert Advisor)
Davide Viaggi (University of Bolognia)
Knud Tybirk (Food & Bio Cluster Denmark)
Nunzia Fasolino (University of Bolognia)
---
Presentations on recommendations for academia, primary producers, and policy makers based on COOPID results.
12:15 PM - 12:25 PM
Beyond COOPID: the Rural Bioeconomy Aliance
---
A new cluster of EU projects is born. Presentation led by this year's current Cluster leader: Institute for Bio-Economy and Agri-Technology (iBO). Projects present in the event: BioRural, BM4R and Ru...

12:25 PM - 12:30 PM
Farewell
Innovarum (event organiser)
12:30 PM - 1:15 PM
LUNCH// NETWORKING // EXHIBITION
About this event
3 hours 30 minutes

Mobile eTicket
Next 31st of May COOPID organises the final event of the project after 2.5 years of work: the COOPID Bioeconomy Conference, an official #EUGreenWeek 2023 Partner Event.
About COOPID
COOPID is an H2020-funded project active since January 2021 with the mission to foster the development of the bioeconomy in the agri-food sector. With this goal, the project has implemented a strategy based on a cascading multiplier effect:
The selection of 11 real successful businesses in the EU and the organisation of visits to these cases. Participants raised to more than 500.
An ambassador programme with primary producers (127 #COOPIDambassadors) and more than 1500 impacts.
The production of high-quality resources (>4000 downloads & views) and a supportive digital project presence.
Why Join Us?
Participate in person in the final project conference where the results of 2.5 years of work will be presented.
Take part in a debate with experts on challenges faced by primary producers in the bioeconomy & business opportunities that are on the rise.
Connect with key players in the sector.
Find out first-hand what are the recommendations produced by the COOPID project
Visit the project exhibition, and take home all the videos, resources and materials produced by the COOPID project.
Who Is This Event For?
Primary producers
Policy makers
Agri-food cooperatives
Organisations in the agri-food sector
EU Projects
Industry and academia
Other Key Events on the Same Day in Brussels: The 2023 EU AgriResearch Conference
The 31 May 2023 (13:30 CEST - 1 June 2023, 18:00 CEST), the Directorate-General for Agriculture and Rural Development (European Commission) is organizing the 2023 edition of the EU AgriResearch Conference: "This year's edition will give participants the opportunity to engage with scientists, farmers, rural communities, industry, advisors, policymakers, citizens and NGO representatives." (European Commission)
The agenda of the COOPID Bioeconomy Conference (09.00-12:30) and the 2023 EU AgriResearch Conference (13:30-18:00) are compatible, with the venues are 15 minutes walk apart: if interested, you can enjoy both agri-food events in your day in Brussels.
More information on the 2023 EU AgriResearch Conference here.
Where To Find More About COOPID?
This project has received funding from the European Union's Horizon 2020 research and innovation programme under Grant Agreement No. 101000519
Frequently asked questions
I cannnot participate in person, is there something online?
About the organiser
About Innovarum
Innovarum is an agent in the bioeconomy, active in the European forefront! Innovarum is a Spanish SME specialised in the bioeconomy and the agrifood sector. It supports companies to develop, scale-up and release to the market their innovative technologies, processes or services.
Sobre Innovarum
Innovarum es un agente en la bioeconomía activo en el frente europeo. Innovarum es una PYME española especializada en la bioeconomía y el sector agroalimentario. Apoya a entidades a desarrollar, escalar, y lanzar al mercado tecnologías, procesos o servicios innovodares.