Join us for a fun workout, relaxing stretching class and reward yourself with a superfood Acai Bowl.
About this event
BodyWorxHub is an international High Vibe Social Fitness Crew on a mission to make workouts empowering and fun!
We host a HiiT & Stretching class FOR FREE and afterwards have ACAI brunch together! Join the 45 min functional HiiT class, then relax your muscles during the 30 min Stretching session and get ready to spoil yourself with a super nutritious ACAI bowl and connect with new people!
What is HiiT? HiiT stands for High Intensity Interval Training which uses bodyweight exercises like planks, squats & lunges to build up your muscles and high intensity exercises to improve cardiovascular fitness, increases speed, and maximize calorie burn.
Why is it so effective? The variety of bodyweight exercises and high intensity provides the challenge and intensity you need to get quick results.
Haven't worked out in a long time? Don't worry, we always give different types of options and adapt the exercises to your individual need! Don't worry, we've got you!
What do you need to bring? Mat, water and towel and of course your biggest smile ;)
Like the idea of Social Fitness? WE DO TOO! Every month, we host a big event like wine tasting, paddle surf or boats trip to bring the community together. Wanna join that too? Follow us on IG& Facebook @bodyworxhub to stay tuned on whats coming!
Join our workout for a free trial, and you get 10% discount on your Acai bowl!
After you joined us for the first time and you got inspired to become a BodyWorx'er go to our website to find out more about our memberships & 10x class passes: www.bodyworxhub.com
Check out our weekly HiiT & Stretch + Connection Brunch event!
Don't like to workout on Saturdays's, check out our Schedule below to join a class during the week! Sign up for a free class via our website: www.bodyworxhub.com or IG @bodyworxhub!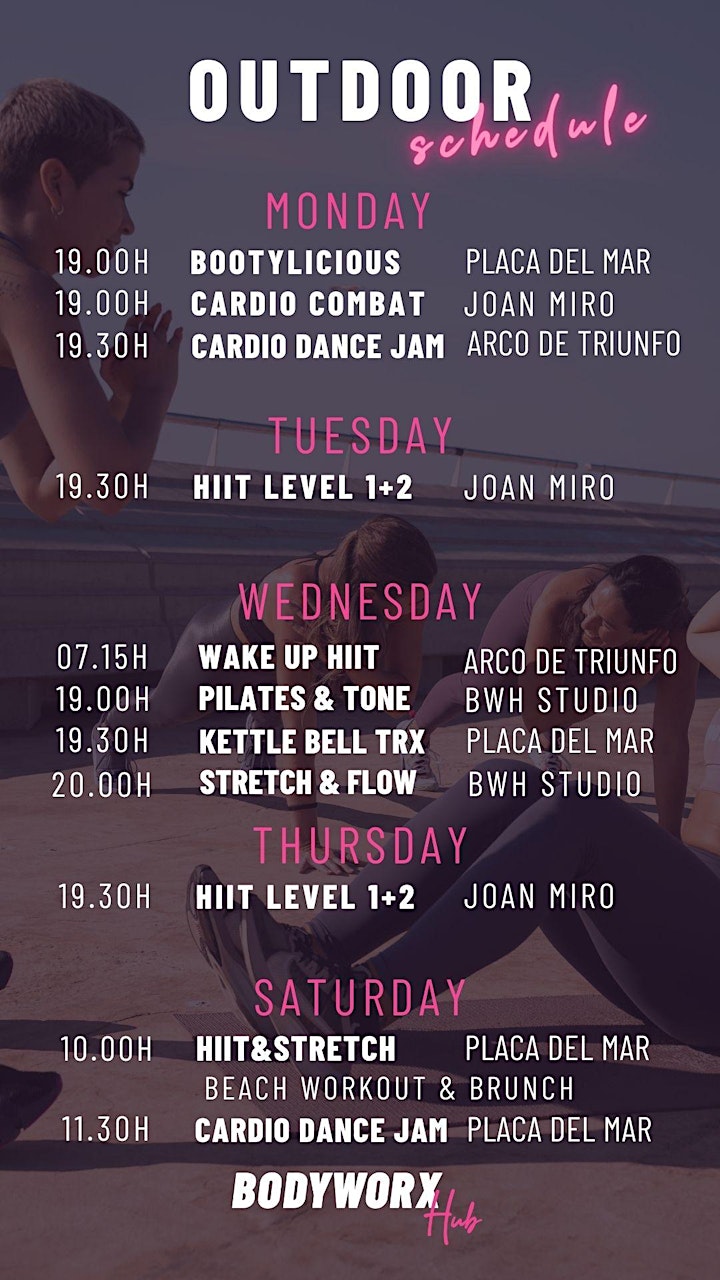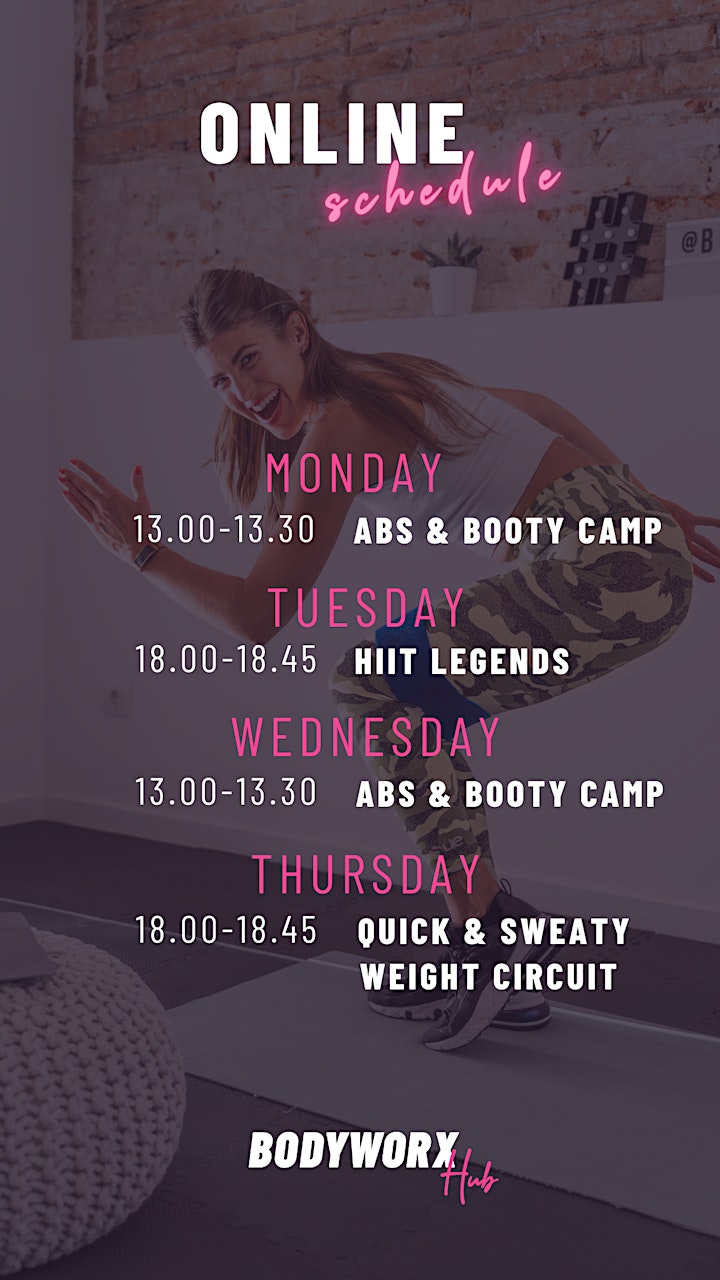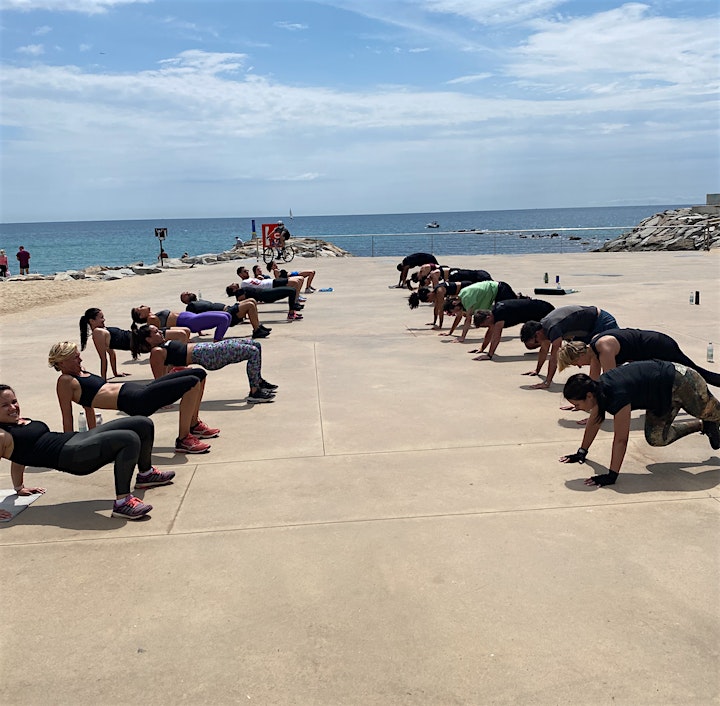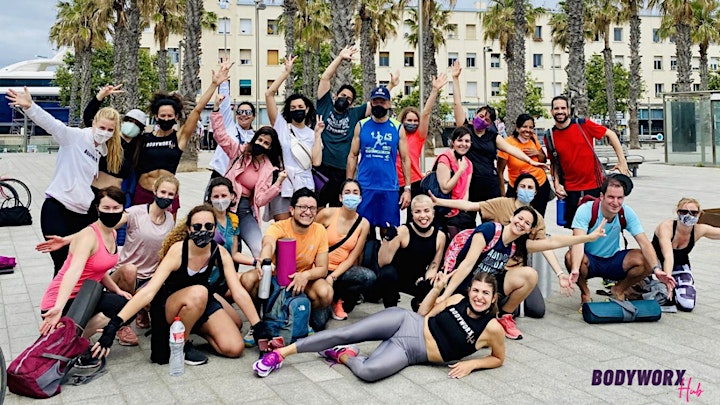 Organizer of Copy of HiiT Training & ACAI Connection Brunch
BodyWorXHub is more than your average Workout group! We are a HIGH VIBE WORKOUT crew committed to one mission: Making fitness fun! That's why we connect our FITNESS classes with SOCIAL EVENTS!
The BodyWorxHub Crew unites daily in Barcelona's parks and Beaches for HiiT, Kettle Bell & TRX circuits, Kick Boxing, Cardio Dance or Yoga sessions! We sweat it out together, connect with others and have fun!