CORPORATE TRAINING , COACHING, ONLINE LEARNING, SALES AND MARKETING Strategy-training dari expert selama pandemi dgn capasitas max 100 deleg
About this event
Orchid Associates Group is proud to invite you to our offline event
*CORPORATE ACADEMY AND E-LEARNING CONFERENCE.*
Day: Wednesday, September 8th. 2021
Time. : 09;00 - 17.00 WITA
Venue : The Mansion Resort Ubud, Pandawa Ball Room, Penestanan Ubud, Bali
Featured speaker
1. Gill Petersil-Intl coach,
2. Arthur Carmazzi-One of the World's top coaches,
3. Jelita Widuri Yati, HR Director of MRT,
4. Putu Bagus Sasrawan Head of Entrepreneur and Career Development Udayana university
5. Sebastien Pachot-Lead Panelist
6.Eugene Feklistov, Regional Director of Sales and marketing Bali – Como Hotels and Resorts
7. Jelita Widuri Astuti HR Director MRT
8. Gregory Hasanov Bachtiar Founder Orchid Associates Group
To discuss the latest strategies in corporate training and online learning in the company and the most suitable training system to be applied during the Pandemic.
This event will be attended by HRD participants and management from big companies in Indonesia.
Join us.
limited space for 100 participants offline
For complete information please contact *081337185076*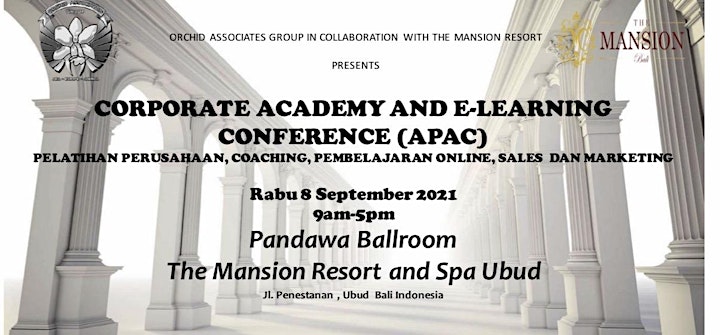 Organizer of CORPORATE ACADEMY AND E-LEARNING CONFERENCE 8th Sept. 2021 Ubud, Bali