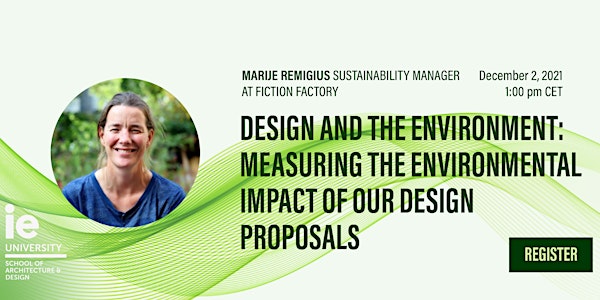 Design and the Environment: Measuring the Environmental Impact of our Desig...
Marije Remigius will share insights of the building process of four pavilions at the Floriade in the Netherlands
About this event
In this masterclass sustainability manager at Fiction Factory Marije Remigius will talk about the 4 pavilions and exhibitions she is involved in to build at the Floriade in the Netherlands by April next year.
The pavilions are built with circular principles in mind but with a different approach. She will explain these different approaches and also why an interior building company is building these exterior pavilions.
About the Speaker
Marije Remigius is a sustainability manager at Fiction Factory. This is an interior building company, building B2B custom build interiors for brands all over the world. After 20 years of working as a project manager for the company, Marije decided to change the way she and the factory were working. In collaboration with their clients and other stakeholders, they are changing the way of building interiors and are closing the system by taking responsibility for the interiors they produce. Not only by taking them back but also to reuse and repurpose the materials. By giving presentations and workshops to architects, students and in companies she is learning others to do the same. She is working on European funding projects on reducing wood waste with open source and digital solutions. And with her 7 loops to circular exhibition building, she is actively involved in changing the way our cultural heritage is presented.
At this moment she is involved in producing 4 biobased and circular pavilions and 3 exhibitions at the Floriade 2022 in Almere The Netherlands.
About the Design and the Environment Lecture Series
The designer of the 21st century needs to be aware of the environmental agenda from the very beginning of the design process and must raise this awareness into acknowledging the impact of every decision.Being a "sustainable designer" is not limited to obtaining certifications such as the Leed or Bream. It goes beyond official recognition. We strongly believe that the most sustainable square meter is the one that has not been built, and if built, the one that is used intensively throughout the years.
Join us for this lecture series and learn the role of strategic design in a more sustainable future.