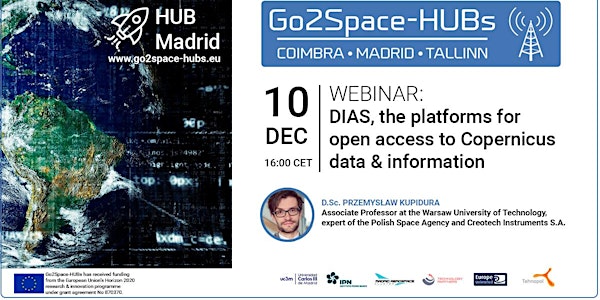 DIAS, las plataformas de acceso abierto a los datos de Copernicus
Webinar sobre las plataformas DIAS (Data and Information Access Services)
About this event
To facilitate and standardise access to data, the European Commission has funded the deployment of five cloud-based platforms providing centralised access to Copernicus data and information, as well as to processing tools. These platforms are known as the DIAS, or Data and Information Access Services.
The European project Go2Space-HUBS (HUB Madrid) invites you to attend this free webinar in which we will thoroughly explain these platforms.
The session will be in English.
AGENDA
16:00- Welcome
Gemma Villegas. Go2Space-HUBS Madrid Coordinator. UC3M
Jaroslaw Soltys, Technology Partners, Poland
16:05- DIAS: the platforms for open access to Copernicus data & information
D.Sc. Przemysław Kupidura, Associate Professor at the Warsaw University of Technology. Expert of the Polish Space Agency and Creotech Instruments S.A.
18:00- Use case: Copernicus-Based Population Estimation Solution for Efficient Vaccination Campaigns
Gustavo Calouri Satei, Managing Director. Space SUR
18:20- DIAS Environment Hackathon
Elsa de la Haza.Go2Space-HUBs Hackathon Coordinator. UC3M
-----------------------------------------------------------------------------