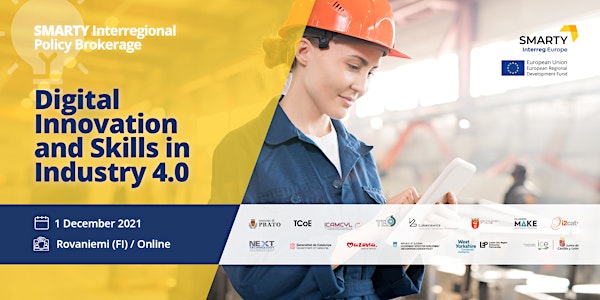 Digital Innovation & Skills in Industry4.0 - Interregional Policy Brokerage
SMARTY is holding its fourth Interregional Policy Brokerage on "Digital Innovation & Skills in Industry 4.0"
About this event
Digital Innovation & Skills in Industry 4.0
On 1st December, the SMARTY project will hold its 4th Interregional Policy Brokerage in Rovaniemi (Finland).
A panel of experts from the participating regions—Tuscany (Italy), Flanders (Belgium), Lapland (Finland), Mazovia (Poland), Slovenia, Castilla y León (Spain), Catalonia (Spain), Leeds City Region (UK)—and other European territories will share experiences on national and regional initiatives related to Digital Innovation and Skills in Industry 4.0. The discussion will be organized around two thematic sessions, providing a space for interregional learning and cooperation.
➡️ Join us online for the 4th SMARTY Interregional Policy Brokerage on December 1st.
Agenda
Welcome by the hosting region
Päivi Ekdahl, Development Director, Regional Council of Lapland
Keynote presentation – The Voice of the Industry
Development Director of Business Operations, Kari Poikela, Pohjaset Oy
Interregional Policy Brokerage (IPB) sessions
Session I: How can the local innovation ecosystem maximize the Industry 4.0 / Digital transformation for hard-to-reach SMEs
Facilitator - Jukka Teräs Norrum
Good Practice presentations:
ProACCIÓ: Supporting the Catalan business ecosystem's transition to I4.0, Sandra Pérez Martínez, Head of Industry 4.0 ACCIÓ, ES (via TEAMS)
Technological district of Tuscany for the Advanced Manufacturing, Gate 4.0 IT, Professor Gualtiero Fantoni, The University of Pisa, IT (via TEAMS)
Leeds City Region Skills for Growth Programme, Jane Green, Service Manager - Skills for Business, West Yorkshire Combined Authority, UK
Round-table – Session specific tabled questions & main takeaways and lessons learned – Fasilitated by Jukka Teräs Norrum
Lunch break
Session II: Training & skills - Digital innovation and skills in Industry 4.0, Facilitator - Jukka Teräs Norrum
Good Practice presentations:
Digital Apprenticeships in England, Bill Macbeth, Managing Director, Textile Centre of Excellence, West Yorkshire, UK
PRISMA Call for projects with enterprises, Paolo Guarnieri, Project manage Municipality of Prato IT
Future key skills and competences for I4.0 (SRIPs as a foundation for the digital transition), Ines Gergorić Senior Adviser and Andreja Hlišč, Project manager and Cluster coordinator – Chamber of Commerce Industry of Slovenia, SI (via TEAMS)
Round-table – Session specific tabled questions & main takeaways and lessons learned – Fasilitated by Jukka Teräs Norrum
SMARTY Partners: