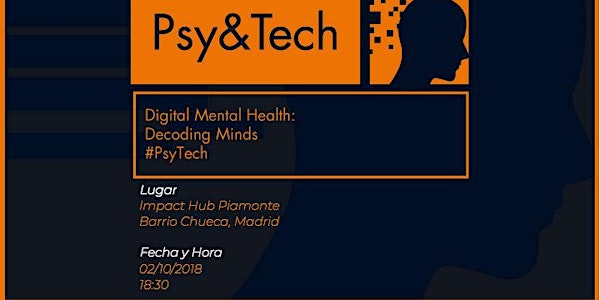 Digital Mental Health: Decoding Minds #psytech
En nuestra segunda edición #PsyTech. ¿Deben los programadores entender de psicología o deben los psicólogos entender de programación?
When and where
Location
Impact Hub Piamonte, Madrid Barrio de Chueca, Centro Piamonte, 23. 28004 Madrid Spain
About this event
En esta segunda edición de Psy&Tech hablaremos de la relación entre la salud mental y la tecnología.
¿Deben los expertos en tecnología entender de psicología o deben los psicólogos entender de tecnología?
El uso de eHealth ha mostrado resultados prometedores en tratamientos de salud mental especialmente cuando se incluye la orientación de un profesional (psicólogo /psiquiatra). ¿Pero hasta qué punto están comprometidos los profesionales de salud mental con la parte tecnológica?
Bienvenidos al segundo #PsyTech:
Digital Mental Health: Decoding Minds
El tratamiento psicológico de los problemas de salud mental está empezando a experimentar un cambio radical debido a la disponibilidad generalizada de la tecnología digital.
La mayoría de las personas no piensan en alta tecnología cuando se trata de una disciplina académica como la psicología. Sin embargo, con los avances tecnológicos disparados, la tecnología juega un papel importante en el campo de la salud mental.
Mediante el mapeo de los procesos psicológicos críticos implicados en un intento de cambio de comportamiento, podemos diseñar programas digitales para ofrecer terapia cognitiva específica en los momentos correctos, aumentando la probabilidad de un cambio conductual exitoso en una variedad de dominios.
Este avance, llamado terapia digital, se ha demostrado en ensayos clínicos aleatorios como una forma rentable para que las personas logren un cambio conductual duradero, con la ayuda de la ciencia psicológica moderna, pero sin ver a un terapeuta.
En esta segunda edición de la serie #PsyTech abordaremos los siguientes temas:
Es la tecnología el futuro de la psicología
Deben los programadores entender de psicología/ psiquiatría
Deben los psicólogos entender de la tecnología (codificación)
Cómo funciona la inteligencia artificial en la Psicología.
La efectividad del tratamiento combinado "blended care", Casos de éxito
Ponentes:
Gema Climent • Neuropsicología, Fundadora y CIO en Nesplora Technology & Behavior.
Catalogada de innovación disruptiva en su disciplina, que tiene como objetivo tratar el comportamiento humano utilizando tecnologías emergentes y ha revolucionado la evaluación del comportamiento y la cognición, haciéndolo más científico, funcional y objetivo. Ha recibido premios a la innovación, al emprendimiento, a la calidad de la producción y a la investigación aplicada diferencial (ej. empresa de excelencia en el área de Open Disruptive Innovation Scheme con su proyecto Virtual Reality Based Evaluation of Mental Disorders).
Miguel Angel Anton, CEO & Founder at Elma Care
Emprendedor, "startupero", deportista, padre y apasionado de los nuevos modelos de negocio apalancados en tecnología.
Actualmente empeñado en ofrecer una asistencia sanitaria personal, sencilla e instantánea por un precio irrisorio… como? usando la tecnología en beneficio del paciente.
Sergio Salmerón, Ingeniero informático por la Universidad Complutense de Madrid.
Máster en Inteligencia Artificial Avanzada por la UNED y finalizando el doctorado en Sistemas Inteligentes por la UNED, lleva 6 años desarrollando su investigación en el grupo de investigación aDeNu, dentro del departamento de Inteligencia Artificial de la UNED. Además, ha realizado estancias de investigación en la Universidad de British Columbia en Vancouver (2015) y en la universidad de Columbia en Nueva York (2016).
Su investigación se centra en la detección de estados afectivos mediante técnicas de machine learning dentro de entornos de e-Learning.
________________________________________________________________________
Participa en un evento en el que cubriremos la incertidumbre sobre el futuro de la adaptación tecnológica de la psicología tradicional a la Psicología del siglo XXI.
El evento está enfocado a:
Profesionales del sector sanitario:
Psicólogos
Psiquiatras
Neurólogos
Profesionales del sector tecnológico:
Desarrolladores
Ingenieros
Diseñadores
Sector E- health:
Aseguradoras
Farmacéuticas
Empresas de tecnología y salud
Centros Educativos
Departamento de Orientación
Directores de Centros Educativos
Agenda
Recepción
Charla dirigida por Nacho de Ramón
Ponencias
Coloquio