NETWORKING: Digital Supply Chain - Enabling Global End-to-End Advanced Visibility
About this event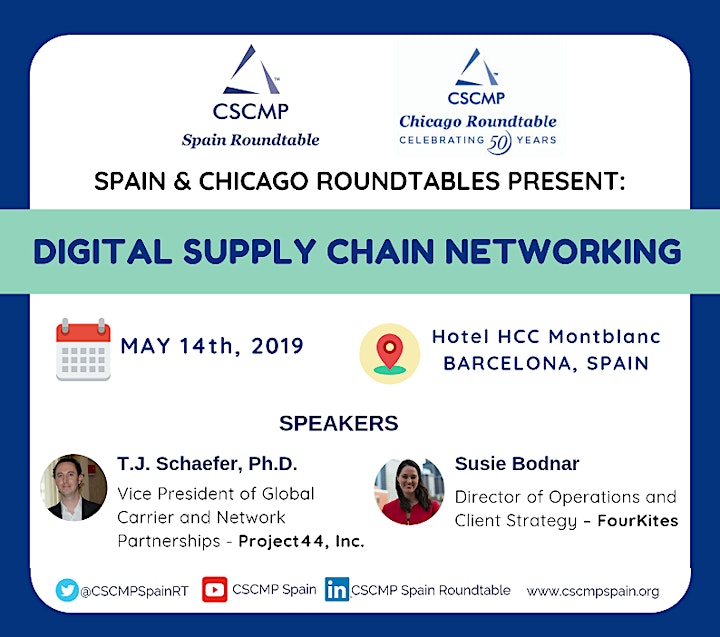 AGENDA:
19:30 – CSCMP Welcome & Speakers presentations
19:35 – Enabling Global End-to-End Advanced Visibility by PhD T.J. Shaefer - As the Amazon effect has raised customer and consumer expectations for transportation visibility, you need a well-lit, transparent tunnel spanning all modes and geographies. New technology and partnerships across key TMS, ELD, and ERP providers have made advanced visibility possible without steep investments in proprietary software.
20:00 – "Change management theory and practice" by Susie Bodnar -The people side of change while implementing enterprise supply chain software
20:30 – Networking "Catering pica-pica"
22:00 – End of Event
Admissions: Students 35€ CSCMP Members 45€ Non Members 55€
* By attending this event you get a Discount of 25€ for our next SCLForum2019 on June 13th. Discount apply for Members and Non Members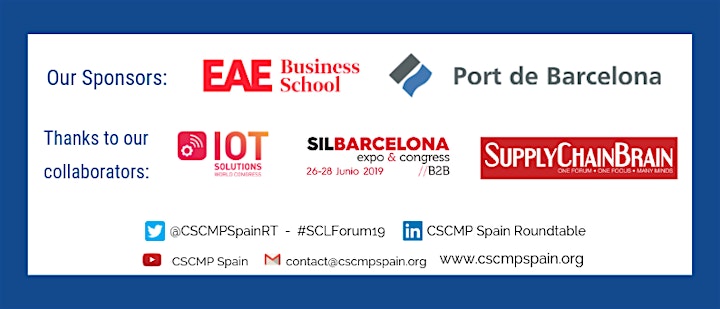 Organizer of DIGITAL SUPPLY CHAIN NETWORKING
Founded in 1963, the Council of Supply Chain Management Professionals (CSCMP) is the preeminent worldwide professional association dedicated to the advancement and dissemination of research and knowledge on supply chain management. With over 8,500 members representing nearly all industry sectors, government, and academia from 67 countries, CSCMP members are the leading practitioners and authorities in the fields of logistics and supply chain management.
CSCMP Spain Rountable wants to provide a global perspective, an end-to-end supply chain scope and great networking by providing events with topics and speakers with international focus and a joint interest to profile CSCMP as a leading European Asociation for supply chain management and logistics.