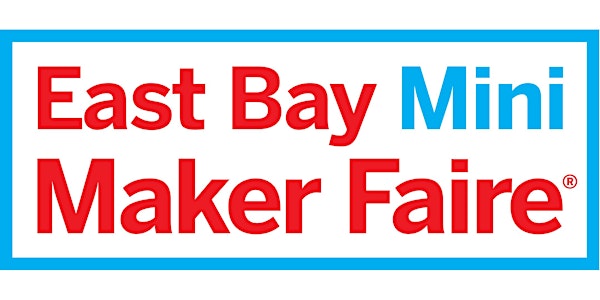 East Bay Mini Maker Faire 2017
By East Bay Mini Maker Faire
When and where
Date and time
Sunday, October 22, 2017 · 10am - 5pm PDT
Location
Park Day School + Studio One Art Center 360 42nd St Oakland, CA 94609
Description
The 8th Annual East Bay Mini Maker Faire is a celebration of the Do-It-Yourself spirit. Bring the whole family for a day of cool projects, workshops, beautiful crafts, great food, music and more. All on the beautiful 4-acre Park Day School campus + adjacent Studio One Art Center in Oakland.
For more information visit, http://ebmakerfaire.wordpress.com/
Questions? Email us at info@ebmakerfaire.com

DISCOUNT CODES WILL NOT WORK FOR ON SITE TICKET SALES. If you're using a discount code, you must buy your tickets online before midnight Saturday, Oct 21st.
Tickets are not refundable after purchase. However, if for some reason you can't attend, you can give them to friends or neighbors for them to use.
Rain plan: THIS IS A RAIN OR SHINE EVENT! In the event of rain, the Mini Maker Faire will still be held. Sorry, but we cannot offer refunds in the event of rain.
Event FAQ:
Who qualifies for the Child/Student/Senior ticket?
If you are under 18, over 65, and/or a full-time student you can register at that rate. Kids 3 and under do not need a ticket.
Will you check for student IDs at the door?
Probably not. We'd rather trust you, and we're not that organized. Any money we make from this event benefits the scholarship fund at Park Day School, and all the energy going into the event is volunteered, so just be cool about it.
What is included in the ticket price?
The ticket gets you in the door, where there'll be plenty to do with the various exhibits, workshops, musical performances, and general merriment. You may drop a few more dollars once you're inside, though, if you buy food, crafts or DIY kits. Those are extra. Also, a few activities with high cost materials may charge a small fee. Please note that some of the food, crafts, and DIY kits may be cash only. There is no ATM on campus.
Where is the list of exhibitors and activities?
Coming in late September at http://eastbay.makerfaire.com
Who is putting this event on?
The parent community at Park Day School. We thought this would be a fun way to contribute to the Maker community and the PDS community, and bring more of the Maker-ethic into our kids school. We're enjoying doing it, though it's a lot of work!
What is your relationship to Maker Media, the producers of "the big Maker Faire?"
A: The folks at Maker Media support over 225 licensed and independently-produced Maker Faires in almost 50 countries around the world. They want to spread Maker culture, and they have a very open approach to doing that. We are inspired not only by their event, but by their philosophy. If you like Maker Faire or just making stuff in general, you should subscribe to Make: magazine - makezine.com
I'd like to exhibit!
Great! Please submit your ideas here: http://eastbay.makerfaire.com/callformakers/
Where can I park?
There is street parking in the neighborhood, and nearby schools (Emerson Elementary and Oakland Tech) may again offer parking for a fee. Please refer to the Attend pages at http://eastbay.makerfaire.com/ for accurate information.
How do I get there by public transportation?
Park Day School is a short walk from the MacArthur BART station and bus lines along Telegraph, Broadway, and 40th Streets.
Will you have bike parking?
Yes! Bikes will be safely and securely held for you at the 42nd Street entrance while you visit the Faire.
Can I bring my dog?
Sorry, dogs are not allowed on the campus.
Can I volunteer at the Mini Maker Faire in exchange for a free ticket?
Yes! Please contact volunteer@ebmakerfaire.com.
What if it rains?
The show will go on! Bring rain gear to keep you dry when walking outdoors. Fortunately, we will have many indoor exhibits to keep the family dry.
What can I expect?
To have a fantastic time! You'll be surprised and intrigued with every corner that you turn.
Rain or Shine. No Refunds/Exchanges. Tickets cannot be replaced.
About the organizer
About East Bay Mini Maker Faire:
East Bay Mini Maker Faire is an independently-produced Maker Faire, licensed and organized by the parent, educator, and student community of Park Day School.  It was founded in 2010.