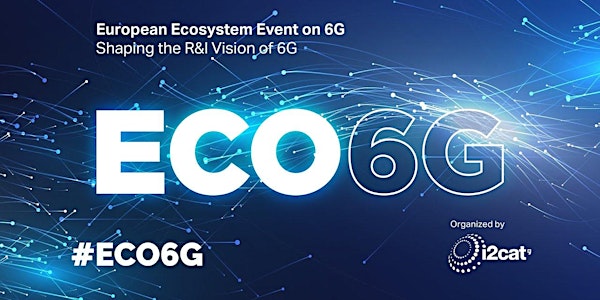 ECO6G - European Ecosystem Event on 6G
ECO6G - European Ecosystem Event on 6G. Shaping the R&I Vision of 6G
When and where
Date and time
Thursday, February 10, 2022 · 12 - 9am PST
About this event
We are well into the 5G era. Now is the time to envision what 6G will be. These questions deserve discussion and answers to be provided by the 6G community stakeholders, which emerge from the 5G community but will also extend to new players in a highly dynamic ecosystem.
Motivated by this, the i2CAT Foundation promotes and organizes ECO6G, an event born to become an international reference point for 6G discussions.
For this first edition, key 5G and future 6G stakeholders will sit together to discuss about 6G from a European perspective, providing both the unified vision of Europe as a leading world region in 5G, and also giving voice to the individual initiatives put in place by the different member states.
Featuring distinguished and knowledgeable speakers that represent the voice of policy makers, program leaders, industry representatives, users, and key academic players.
Online and On-site
ECO6G will combine on-site and online elements in an open broadcast. Some speakers will participate live from Barcelona, in a space that will accommodate a number of selected guests, while others will be connected remotely.
Attendees will have the opportunity to join free and virtually from anywhere in the world, using a high-quality and reliable streaming service.
About the organizer

i2CAT és un centre CERCA de recerca i innovació en tecnologies digitals avançades situat a Barcelona. Des de 2003, i2CAT impulsa la societat digital del futur a través del coneixement generat en el desenvolupament de projectes i activitats d'R+D+I en tecnologies com a 5G, IoT, VR i tecnologies immersives, ciberseguretat, blockchain, intel·ligència artificial, New Space i Innovació Social Digital. El centre col·labora amb empreses, administracions públiques, institucions acadèmiques i usuaris per tal d'aplicar aquest coneixement en la resolució de reptes socials i empresarials.
----
i2CAT is a CERCA research and innovation center based in Barcelona which specializes in advanced digital technologies. Since 2003, i2CAT has been committed to designing and building the future digital society by leveraging the knowledge gained from cutting-edge European and local R&D projects in the fields of 5G, IoT, VR and Immersive Technologies, Cybersecurity, Blockchain, AI, New Space, and Digital Social Innovation. The center partners with companies, public administration, academia, and end-users to leverage this knowledge in order to meet real social and business challenges.