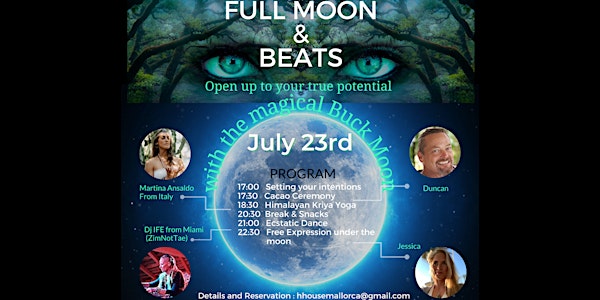 Ecstatic Full Moon Gathering
Join us to celebrate the July Full moon at H House Mallorca. Cacao Ceremony, Kriya yoga and Ecstatic Dance with DJ Ife (Miami)
When and where
Location
H House Mallorca Cami de Can Cifre 07609 Llucmajor Spain
Refund Policy
Contact the organizer to request a refund.
About this event
Doors open at 5 pm
Heart Centric Cacao Ceremony led by Duncan at 5.30pm
Himalayan Kriya Yoga with Martina Ansaldo of Italy at 6.30pm
Vegetarian snacks at 8.30pm
Ecstatic Dance with DJ IFE from Miami at 9pm
Closing Circle and free expression under the light of the Full Moon led by Jessica at 10.30pm
44 € why 44?
This Full Moon comes with the energies of Transformation, flourishing, communication, letting go of the past and to TRULY Become Ourselves!
Master number 44 comes with the energy of Abundance, Laying solid foundation for your future success.
Angel number 44 when added together creates number 8 which holds the energy of Achieving your aims and goals which is perfect to bring in for this special buck full moon which helps you to Energise your bigger Dreams! And open up to your future potential!
This full moon also enhances energies such as: Ripening, Renewal, Releasing and letting go, power struggle and healing.
18:30 - Martina -With Himalayan Kriya Yoga we will open the energy channels and so energy blockages /limited beliefs and trauma, in a very deep level Grounding and getting ready to manifest abundance in our life, expanding our light from the center of the heart.
Himalayan Kriya Yoga is the practice of energy yoga.
It is a very ancient, sacred science and technique that uses shaking, tapping, mantras, mudras, breathwork, and meditation to access and release trapped emotion and stuck energy within the body.
It is recently shared by chosen Gurus and it's known as practice of liberation and self-realization designed to clear our bodies of these energetic blocks in the quickest way possible. We tap into the body's innate intelligence to improve thought patterns, release traumas, and free karmic experiences. We deeply purify our chakras and allow the life-force within to flow freely. By "cleaning the closet", we reach faster alignment with our truest essence and come back into blissful union within.
22:30 - Jessica_-in the circle I am going to share a bit how we can make these energies work for us (if used in the right way) instead of getting stuck in the polarity of this full moon.
And in the circle I will also offer guidance with angle cards 🔮 for anyone that wants more personal clarity.
Jessica LoveLight
Value you get
To help you start the Abundance in your life with the energies of this full moon, we also have an amazing offer!
Normal price for:
Kriya yoga session 30 €
Cacao ceremony 30 €
Ecstatic Dance house/techno with Miami DJ IFA ZimNotTae 90 €
Value together 150 €
But this Magic Full Moon you get all this for only 44 This Full Moon comes with the energies of Transformation, flourishing, communication, letting go of the past and to TRULY Become Ourselves!JessicaLoveLight 💞
DJ IFE - from the land of the midnight sun
Deep House Afro Beats Techno DnB Psybass
The world may finally be ending ...while things have gone dark, IFE holds the light, the tempo, and rhythm to transcend these moments through the seduction found in her house....music. Guided by her intention to awaken audiences, IFE calibrates the BPM to our chests, conjuring our ghosts to dance in the house of the illuminated heart.