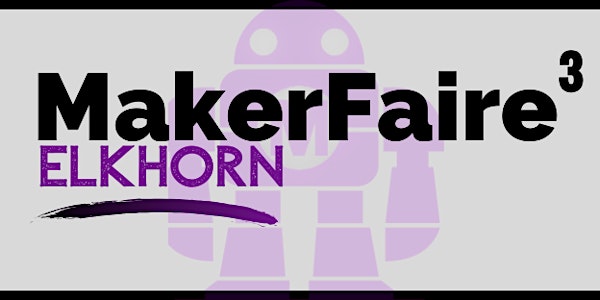 Elkhorn Mini Maker Faire 2020
When and where
Location
Elkhorn Area High School 482 E Geneva Street Elkhorn, WI 53121
Description
FAQs:
What should I bring?
Cash to puchase raffle tickets, or pay for small fees for some activities. Some of our Makers will also have items for sale. ATMs will be available on site. Check out our growing list of raffle items: https://elkhorn.makerfaire.com/attend/584-2/
You will be contacted prior to Saturday's event if there is something you need to bring for your class/workshop/competition.
An item to support Lakeland Animal Shelter, as they are our community sponsor. Visit this site for a wish list of items: https://www.lakelandanimalshelter.org/donate/wish-list/
Camera to take pictures of all the fun things you will paricipate in during the day, and post them to our Social Media. Facebook: @ElkhornMMF Twitter: @ElkMakerFaire
What day and time will Elkhorn's
Mini Maker Faire be open to the public?
Saturday, February 15th from 9:00am-4:00pm for workshops/classes/trainings/competitions.
Sunday, February 16th from 9:00am-4:00pm. All reserved and tickets purchased on the day of the event will enter through the Elkhorn Area High School Main Entrance. Please be sure to bring your ticket on your phone or printed. Free reserved tickets will require an item to donate to the animal shelter upon entrance.
Tickets are available on the day of the event for $5.00 per ticket, or $20.00 for a family (immediate family members only) + an animal shelter item. They can be purchased at the main entrance.
Where can I park?
You can park in the Elkhorn Area High School Parking Lots.
Where is the handicap parking located?
Handicap parking is located in the front of the school.
Can I bring my dog?
No pets allowed, unless you adopt one from Lakeland Animal Shelter! :)
Can I volunteer at the Mini Maker Faire?
We welcome all volunteers. Fill out our volunteer form at https://elkhorn.makerfaire.com/volunteer/
What can I expect?
To have a fantastic time! You'll be surprised and intrigued with every corner that you turn. You can expect booths, demonstrations, workshops, raffle room, food, making, hands-on fun, and much more!
No Refunds/Exchanges. Tickets cannot be replaced.

Elkhorn Maker Faire is independently organized and operated under license from Make: Community.
I understand that by registering here, Make: Community may provide me with updates and information about Maker Faires, other events, and products of interest to the maker community. I understand that I may opt out of these communications at any time.
Make: Community Privacy Policy