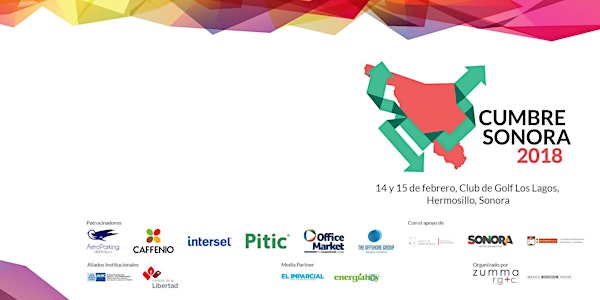 ENERGY ROUNDTABLE & SONORA SUMMIT 2018
When and where
Location
Club de Golf los Lagos 205 Lago del Cisne Hermosillo, Son 83245 Mexico
Description
Since 2012, Cumbre Sonora (Sonora Summit) has consolidated as one of the top independent business event in both the State and the Region.
The Summit takes place on a yearly basis since 2012, with the support of private sponsors. Every year the Summit gathers up to 300 CEOs and decision-makers.
Pevious to the Summit, experts and industry leaders gathers in the Energy Roundtable, an energy-specialized seminar.
This year's Energy Roundtable will focus in the energy future of the Sonora-Arizona Megaregion, while Cumbre Sonora will focus in Mexico's trade diversification and the political-electoral scenarios for 2018-2024.
ENERGY ROUNDTABLE – FEBRUARY 14th, 2018
Topics:
•Current state of the Mexican electricity market
•Clean energy generation
•Transmission, Distribution and Storage
•Energy Transition in the Region
Speakers:
•Ignacio Carrizales, Director General, CFE Generation II;
•Marcelino Madrigal, Commissioner, Energy Regulatory Commission (CRE);
•Oliver Flores, Head of Electricity, Energy Regulatory Commission (CRE)
•Industry representatives from Mexico and the United States.
CUMBRE SONORA – FEBRUARY 15th, 2018
Topics:
•Future of Mexico's Trade Relations
•Natural Gas as a Driver of Regional Development
•Mexico Beyond 2018: Competitiveness, Rule of Law, Political Scenarios
•The New Era of Bilateral Integration: the Future of the Megaregion
Speakers:
•Claudia Pavlovich, Governor or Sonora
•Salvador Behar, Ministry of Economy
•Gerardo Vazquez, Vice President, INDEX
•David Madero, Director General, National Control Center for Natural Gas (CENAGAS);
•Luis Rubio, Director General, Mexican Council on Foreign Affairs (COMEXI);
•Edna Jaime, Directora General, México Evalúa;
•Jorge Vidal Ahumada, Secretary of Economy, Government of Sonora