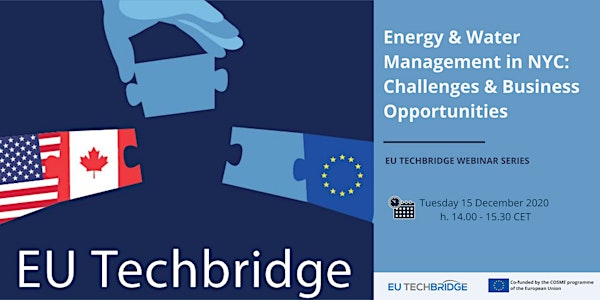 Energy & Water Management in NYC - Challenges & Business Opportunities
Join this webinar to know sustainability challenges from a leading energy utility, a real estate developer and the City of New York
About this event
You will be able to hear directly from a leading energy utility, a real estate developer and the City of New York about their sustainability challenges, technology needs and approach to collaborating with innovative technology suppliers. You will have the opportunity to engage in a Q&A, and get the chance to apply to be selected for exclusive 1:1 meetings with ConEdison and Hines/Urbs in the new year.
Attend this webinar if you have a solution for them.
Urban Systems urbs AB is working with Hines, an international real estate developer, to develop a future proof retrofit system solution for Hudson Square Properties in Manhattan, to exceed ambitious climate goals set by NY. Hines have an ambition to bring state of the art global technologies that can help HSP to achieve its goals, as such technologies at building level within energy production, distribution and storage are of great interest. There is strong regulatory drive and market potential. Also, hear from The New York State Energy Research and Development Authority (NYSERDA) on the regulatory landscape in New York and the Rocky Mountain Institute on their technology database for property developers. There is strong regulatory drive and market potential.
They are seeking technologies related to:
Building energy performance
Heat pumps
Energy Storage
Energy Distribution
ConEdison, an energy utility in New York City, serves over 10 million customers with electricity, steam-based district heating and natural gas.
ConEdison is seeking technologies related to:
Building envelope retrofits that are sensitive to preserving old buildings;
Gas demand management & efficiency
Electrification of heating & cooling
Integrated controls to improve performance and utilization of heat pumps
Real-time energy system monitoring in buildings
City of New York, Department of Citywide Administrative Services, Mayor's Office of Resiliency, Office of Sustainability, & Department of Environmental Protection
The entities above are seeking water and energy technologies related to:
Building health & energy performance
Community energy
Resource recovery
Co-digestion of solid waste & energy production
Distributed Green Infrastructure
About EU Techbridge
EU Techbridge matches innovative European SMEs with partners in the US and Canada seeking innovative water and energy solutions. After hearing directly from these stakeholders about their needs and how they work with innovative suppliers, SMEs have the opportunity to be selected for two rounds of 1:1 meetings, as well as co-financing of travel costs to visit partners, travel conditions permitting.

EU Techbridge European Funded Project
EU Techbridge is a 24-month European project (2020-2022) funded by COSME-Cluster Go International. This initiative will support SMEs working at the intersection of energy and water value chains to integrate into US and Canadian markets.
Consortium
The Consortium counts 5 European Clusters:
SUSTAINABLE BUSINESS HUB (SBH), coordinator – Sweden
ASOCIACION VALENCIANA DE EMPRESAS DEL SECTOR DE LA ENERGIA (AVAESEN) – Spain
CLEAN – Denmark
LOMBARDY ENERGY CLEANTECH CLUSTR (LE2C) – Italy
WATER ALLIANCE – Netherlands