Este evento ha finalizado.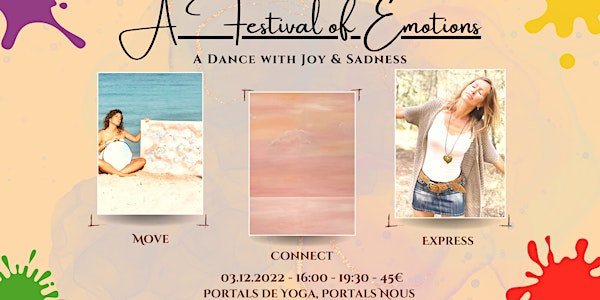 A Festival of Emotions - A Dance with Joy & Sadness
Liberate your emotions & express them through a wonderful dance with music & paint.
Cuándo y dónde
Ubicación
Portals de Yoga 43 Carretera Andratx #local 12, Planta 07181 Portals Nous Spain
Política de reembolso
Contacta con el organizador para solicitar un reembolso.
La tarifa de Eventbrite no es reembolsable.
Acerca de este evento
*Español más abajo *
"With a laughing and a crying eye." Who hasn't heard this phrase before?
It shows that emotions are closely intertwined, and especially these two: sadness & joy.
However, so many times people push their sadness away, trying to cut it out of their life and at the same time cut themselves off from joy as well.
True, honest, heart- and soul-filling joy.
The one that warms you up from inside and makes your eyes sparkle.
The one that is contagious and can spread with just one smile.
So the invite is to allow for the sadness in, feel, understand, express it and then let it go.
And this is what you will do in this wonderful and creative workshop:
You connect to these powerful emotions, feel them, move them and express them colorfully on canvas and through this undergo a transformation.
A transformation to embrace the sadness, make space and see the world with new, bright & joyful eyes.
The best: no prior experience is needed, while music and intuitive movement will guide and accompany you on this journey within to ensure you'll take home a masterpiece.
Program:
16:00 - Welcome & Intro
16:30 - Insight into emotions of joy & sadness
17:00 - Free expression through painting & movement
18:45 - Sharing of the art & closing
What to bring:
Please wear comfortable clothes to move in & that can get dirty
Bottle of Water
A cushion to sit on
Notebook & pen for your notes
Open Heart & Mind
Your beautiful self
Come and join us during this wonderful afternoon where we will dance, laugh, smile and feel expansive.
No prior experience needed.
This event is open for men and women.
Please note pre-payment is needed to and guarantee your spot due to limited space.
We look forward to meeting you.
Lots of love,
Laura & Anne-Christin
**********************
Libera tus emociones y exprésalas a través de un maravilloso baile con música y pintura.
"Con un ojo de risa y otro de llanto". ¿Quién no ha escuchado esta frase antes?
Es muestra de que las emociones están estrechamente entrelazadas, y especialmente estas dos: la tristeza y la alegría.
Sin embargo, muchas veces las personas alejan su tristeza, tratando de cortarla de su vida y al mismo tiempo se separan de la alegría.
La alegría verdadera, honesta, que llena el corazón y el alma.
La que te calienta desde adentro y hace que tus ojos brillen.
La que es contagiosa y puede extenderse con una sola sonrisa.
Entonces, la invitación es permitir la tristeza, sentirla, comprenderla, expresarla y luego dejarla ir.
Y esto es lo que harás en este maravilloso y creativo taller:
Te conectas con estas poderosas emociones, las sientes, las mueves y las expresas coloremente sobre el lienzo y, a través de esto, experimentas una transformación.
Una transformación para abrazar la tristeza, hacer espacio y ver el mundo con ojos nuevos, brillantes y alegres.
Lo mejor: no se necesita experiencia previa, ya que la música y el movimiento intuitivo te guiarán y te acompañarán en este viaje adentro para garantizar que te lleves a casa una obra maestra.
Programa:
16:00 - Bienvenida e introducción
16:30 - Introducción a las emociones de tristeza & felicidad
17:00 - Expresión libre a través de la pintura y el movimiento
18:45 - Compartir el arte y cierre
Qué traer:
Usa ropa cómoda para mudarte y que pueda ensuciarse
Botella de agua
Un cojín para sentarte
Libreta y boli para tus notas
Corazón y Mente Abiertos
Tu hermoso yo
Ven y únete a nosotros durante esta maravillosa tarde donde bailaremos, reiremos, sonreiremos y nos sentiremos expansivos.
No se necesita experiencia previa.
El taller está abierto para todo el mundo.
Ten en cuenta que se necesita el pago por adelantado para garantizar tu lugar debido al espacio limitado.
Esperamos contar con tu presencia.
Mucho amor,
Laura & Anne-Christin