Información sobre el evento
Join us at the Experts Panel and discover the Megatrends in Augmented Reality that will change dramatically the future of Business.
Acerca de este evento
AUGMENTED SOCIETY
Innovative Experiences for 21th. Century
"Free Online Webinar"
22 Sep 2021 18.00 / 19.00 CET
According to MarketsandMarkets, the market for AR technology is worth $15.3 billion. It's worth exploring the different avenues and trends that drive the surging augmented reality market. By the end of 2020, AR active devices were estimated to rise to 598 million units and are projected to grow to 1.73 billion by 2024.
Join us the Experts Panel and discover the Megatrends in Augmented Reality that will change dramatically the future of Business. AR trends are here to Stay, is powered by VRARA Madrid Chapter.
With Paul Duffy (Nextech AR Solutions), Florencia Moltini (CanOnApp) and Akram Amir (AR Engineering), presented and moderated by Carlos J. Ochoa.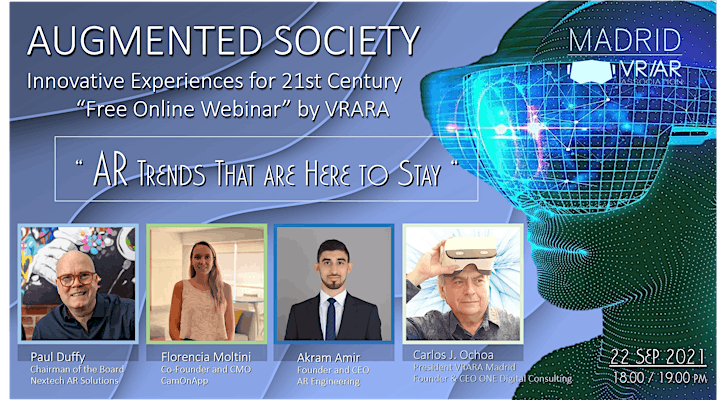 SPEAKERS:
Presented and Moderated by: Carlos J. Ochoa, Founder and CEO of ONE Digital Consulting, President VRARA Madrid Chapter, Co-Chair of VR/AR Education Committee, Immersive Learning Founding Member, ICICLE X-Reality for Learning and Performance Augmentation SIG, Member of Smart Cities Experts Group of AENOR. With over 30 years of international experience in the Innovation and New Advance Digital Technologies with a balanced strategic mission and innovative business development vision.
Paul Duffy, Chairman of the Board Nextech AR Solutions. As an award-winning serial entrepreneur and innovator with 27 years of experience successfully starting, expanding, and diversifying technology companies, Paul is a recognized leader in the domains of Mixed Reality technologies, Holographic technologies and Artificial Intelligence. With a life long mission to create humanizing technology, Paul holds multiple patents for Augmented Reality and Holographic Telepresence.
Florencia Moltini, Co-Founder and CMO of CamOnApp. I graduated in Psychology and made specializations in Communication, HR, Digital MKT and Innovation. I have always been passionate about new technologies and marketing, and much more if they come as a combo. I'm curious, restless and constantly trying to learn new things. My best version is when I create content, play with words, use common sense and generate dynamics with others. Today I continue pursuing that role in different scenarios.
Akram Amir,Founder and CEO of AR Engineering. Working with a brilliant team on a mission to provide exceptional learning experiences that will significantly impact the lives of the Students & Workforce. I am also a Venture Scout at NetworkVC.org which is The World's Most Effective Fund Raising Service. One of the roles I like to play is to help Entrepreneurs that would like to have a positive impact in this world, and connect them with the right people that can help them in their journey!
EVENT INFO
We are waiting for you next Wednesday, September 22, 2021 at 18:00 p.m. CET
Reserve your ticket on Eventbrite to guarantee your free access to the event.
This event will be held on Teams Live. You can download and install Teams app for free here:
https://www.microsoft.com/en-us/microsoft-365/microsoft-teams/download-app
Or accessing through this web link
AUGMENTED SOCIETY 21
POWERED BY VRARA Madrid Chapter
The VRARA Madrid Chapter collaborates and promotes the development of the new VRAR Ecosystem, to strengthen and lead the digital transformation, through the use of Immersive Technologies. The chapter is directed by President Carlos J. Ochoa.
The VR / AR Association (VRARA) is the global association for the development, dynamization and acceleration of the Virtual Reality and Augmented Reality industry, which has more than 27 thousand professionals and 4,400 companies, brands and universities and registered educational centers.
VRARA initiatives are designed to accelerate growth, foster research and education, help develop industry standards, connect organizations, their members, and promote collaboration among partner companies.
Contact the event organizers if you are interested in joining VRARA.
carlos@thevrara.com
https://www.linkedin.com/company/vrara-madrid/
Organizador de Augmented Society Experiences for 21 Century
Founded in 2015, the VR/AR Association is a global member community of the best minds in virtual reality and augmented reality with Chapters in major cities across the world designed to foster research, develop standards, and promote and connect members.
Members of the VR/AR Association include enterprises, media and entertainment companies, advertising agencies, retailers, brands, professional sports teams, hardware developers of components, chipsets, accessories and head mounted displays (HMDs), software developers of gaming, entertainment, and productivity tools, content creators, universities and academic and entrepreneurship institutions.
The Madrid chapter of VRARA aims to harness the VR/AR unique power and influence to propagate these technologies across all industries, promote the best use cases and progress our community's awareness and connectivity within the VR/AR industry.
VRARA Madrid Chapter connects the VR/AR to the top global organization for thought leadership and industry access in this immersive and rapidly developing space.
The President of the VRARA Madrid Chapter is Carlos J. Ochoa, who can be found at:
https://www.linkedin.com/in/carlosjochoa/
Why VRARA Madrid?
NETWORK: Connect and build strong relationships with key players in the VR/AR ecosystem through VRARA or partner-hosted events.
COLLABORATE: Work with innovators in the VR/AR ecosystem across all verticals, from original content creators to innovative hardware companies.
RESEARCH: Gain unlimited, exclusive access to VRARA research and publications, or, when applicable, receive discounts to third-party reports.