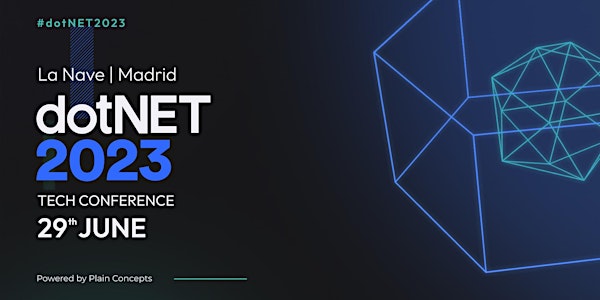 dotNET 2023
We are back with our sixth edition 100% in person, with more surprises and great speakers.
Fecha y hora
jue., 29 de jun. de 2023 8:30 - 19:00 CEST
Ubicación
La Nave 5 Calle Cifuentes 28021 Madrid Spain
Política de reembolso
Reembolsos hasta 30 días antes del evento
La tarifa de Eventbrite no es reembolsable.
Acerca de este evento
10 horas 30 minutos

Entrada electrónica móvil
dotNET 2023 is here!
The sixth edition organized by Plain Concepts will take place on June 29th and it will be a 100% in person event at La Nave in Madrid. You can't miss the most important .NET technology event in Europe
This year we are excited to meet again in person, and we are back with great speakers and great talks!
What will you find this year at dotNET 2023?
+800 attendees
+20 sessions
+25 speakers
3 Workshops:
Introduction to Azure B2C
Extending Power Platform with JS and C# code with the help of ChatGPT
Discover your own documents by querying Azure Open AI
Our speakers who will join us in this edition:
Scott Hunter | Director of Program Management at Microsoft
Glenn Condron | Senior Program Manager at Microsoft
Natalia Venditto | Principal Program Manager for JavaScript/Node.js e2e DX at Microsoft
Miguel Ángel Durán |Developer Expert, Microsoft MVP & GitHub Star
Unai Zorrilla | CTO at Plain Concepts & Developer Technologies MVP
Ana Jimenez Castellanos | AI/ML Leader for Iberia at Amazon Web Services
Luis Fraile | DevOps and ALM at Plain Concepts | Developer Technologies MVP
Sara San Luis Rodriguez | Engineering Manager / Data Scientist at Plain Concepts
Rodrigo Cabello | Research Engineer at Plain Concepts & AI MVP
Ana Escobar Acuñas | Field Applications Engineer at Intel Corporation
Gema Molina | Software Developer Engineer at Plain Concepts
Eduardo Matallanas | Principal Engineer at Plain Concepts
Javier Suarez | Senior Software Engineer at Microsoft
María Soto | Partnerships director at Plain Concepts
Carlos Mendible | Sr Cloud Solution Architect at Microsoft
Manuel Sanchez | Technical Manager & Azure Evangeslist at NTT DATA | Microsoft MVP Azure
Tug Grall | Principal Solutions Engineer at GitHub
Jorge Cantón | Research Director at Plain Concepts
Javier Carnero | Research Manager at Plain Concepts
Raúl Piracés Alastuey | Software Development Engineer at Plain Concepts
Victor Rubio Torroba | Software Development Engineer at Plain Concepts
Diego Rodriguez Varela | Software Development Engineer at Plain Concepts
Miguel Piñuel | Power Platform & M365 Software Developer Engineer at Plain Concepts
Rubén Gómez García | Software Developer at Plain Concepts
Andoni Santamaría | Software Development Engineer at Plain Concepts
* Remember that the entrance fee includes coffee, lunch, and a surprise for each attendee!
* Please remember that Plain Concepts does not generate invoices for the purchase of the tickets as it is managed through an external platform.
Don't forget to follow us on our Twitter account
Acerca del organizador
Plain Concepts was founded in 2006 by 4 Microsoft MVPs (Most Valuable Professional), who came together to create a company that would attract renowned and recognized professionals around the globe.
 Ever since, Plain Concepts has continued to grow every year. Awarded in 2016 as Microsoft Partner of the Year, we currently have over 450 employees, marking a milestone in the technology sector by having 13 professionals recognized as Microsoft MVP and over a dozen certifications at a business level.
 Plain Concepts' mission is to provide innovative and engaging custom solutions for all types of digital needs whilst always incorporating the latest available technology.
Present in the USA, UAE, United Kingdom, Spain, Germany, Netherlands, Romania, and Australia, we have developed over 2,000 projects for companies belonging to all types of sectors. In parallel, the team has collaborated with Microsoft in many global forums and events, acting as the reference within their technical specialties.