Este evento ha finalizado.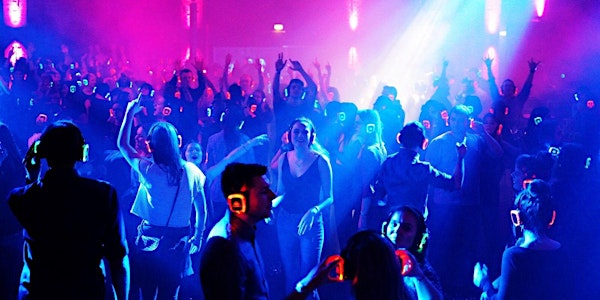 Mega Silent Disco Poble espanyol Barcelona
A unique event of it kind is happening in symbolic location, 12 artists, visual arts display 3channels, 3 musical genre comfortably indoor.
Cuándo y dónde
Ubicación
Poble Espanyol 13 Avinguda Francesc Ferrer i Guàrdia 08038 Barcelona Spain
Política de reembolso
No se hacen reembolsos
Acerca de este evento
Mega Silent Disco Poble (Espanyol by Silent World Events)
Tickets includes
1 drink + HI-FI headphones, corresponding wrist band.
12 artists + Djs + Special Live performance
Large screen video loop display
3channels musical genre
Assorted cocktails mixed by robot & readily served in 12seconds. The first of it kind in the world.
Born rose modern day pink organic wine
Sant- Jordi Artisan beer since 2013. A perfectionist and meticulously brewed - Normal + IPA will be served.
Venue : Covered climatized massive tent " La carpa" inside sybolic place "The Poble Espanyol" (literally, Spanish town) is an open-air architectural museum in Barcelona City.
Description :
More to enjoy with Silent World Events at mega silent disco poble espanyol?
A silent party, silent disco barcelona with headphones and 3 music channels to choose from
Three DJs, an electronic music artist, a guitarist and a live violinist
An LED light show and live neon painting and visual art exhibitions
Mega Silent Disco Event arrives at Poble Espanyol to offer you an increasingly popular event experience: silent discos. Put on your headphones, choose the type of music that you like the most and let yourself be carried away by the magic of the moment.
With three DJs on stage, live electronic music artist, techno music, house music, live musicians, an LED light show and painting... All the ingredients for the perfect night, only you are missing!
Get your tickets for Mega Silent Disco Event at Poble Espanyol, Barcelona!
LINEUPS
(Guitarist - Bartan beat @bartanbeat) (Noemi @noemiviolinbarcelona) (Dj marcelo @marchell_dj) (Dj Dombrik @_dombrik_ ) (Artist - Manos de fuego @manosdefuego_ ) (Artist Painter - Antonio Camacho @tonicamacho1975) (Simon Boulind @djsimonboulind) (Maigual @maigualmusic)
SPECIAL GUESTS Presenter: Rosa @benditoestilorosa
Event organized by Silent World Events
Nightlife, silent disco, silent disco Barcelona, ​​silent disco, parties in Barcelona, ​​wireless headphones, silent club, mega silent disco, Poble Espanyol, electronic music, EDM, techno music, techno house, mix music, etc.
Attend the largest event to date of "Silent Disco " in Spain and live an experience organized by Silent World Events