Este evento ha finalizado.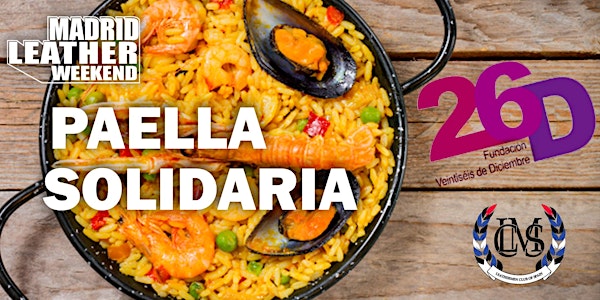 Paella Solidaria 26D - Madrid Leather Weekend 2022
Paella Solidaria a beneficio de la Fundación 26 de Diciembre. https://fundacion26d.org/
Cuándo y dónde
Ubicación
Fundación 26 de Diciembre - Centro Comunitario de Mayores LGTBIQ+ 4 Calle de Fray Ceferino González 28005 Madrid Spain
Política de reembolso
Contacta con el organizador para solicitar un reembolso.
La tarifa de Eventbrite no es reembolsable.
Acerca de este evento
LMCS apoya como colaborador de la Fundación 26 de Diciembre con la Paella solidaria, compatiendo con nuestros mayores y destinando íntegramente el importe de la comida y los donativos al trabajo de la Fundación.
¡Todos los donativos son bienvenidos!
LMCS supports as a collaborator of the Fundación 26 de Diciembre with the solidarity Paella, sharing with our elders and donating all proceedings from the lunch and personal on site donations to the work of the Foundation.
All donations are welcome!
Precio 16,86€ de los cuales 15€ son íntegros para la Fundación
Price €16.86 of which €15 are for the Foundation