Este evento ha finalizado.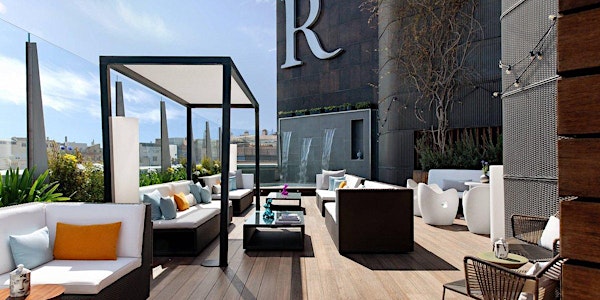 Rooftop Sunday Funday con música de los 80'
The best 80´s djs rooftop party looking the sunset and the sea.
Cuándo y dónde
Ubicación
Renaissance Barcelona Hotel Carrer de Pau Claris, 122 08009 Barcelona Spain
Acerca de este evento
SUNDAY FUNDAY
Acerca de este evento
Rooftop Sunday Funday con música de los 80' y 90'.
El HOTEL RENAISSANCE BARCELONA situado en el centro de la ciudad abre las puertas de su terraza Goja Rooftop, situada en la 8º planta, cada domingo para poder disfrutar de la mejor música de los 80´s y 90's con el DJ de reconocido prestigio RAUL ORELLANA, mítico Dj resident de Studio 54.
Un oasis urbano con zona de mesas y zona chillo ut que ofrece increíbles vistas sobre Barcelona, una amplia carta de cocktails y una moderna carta de comida mediterránea.
Ven a disfrutar con tus amigos para que tus domingos no pasen desapercibidos de 17:30h a 20:30h en horario de DJ pero después seguimos con el mismo estilo de música hasta las 23:59h, por lo que podrás alargar si te apetece con buena música de fondo y de la mejor manera para acabar la semana.
Es necesario reservar debido al aforo limitado de la terraza. Si se llena el espacio no garantizamos poder disponer de asiento en mesa.
* First come first serve basis hasta llenar aforo.
* Consumición obligatoria.
Coming with a group or want to celebrate a special day?
Contact us and we will organize it for you!
Celebrate your birthday?
Send us a message to find out about benefits and presents! info@wesounds.com
▷ HOTEL RENAISSANCE
Carrer de Pau Claris, 122
▷ We sounds
https://www.wesounds.com
https://www.instagram.com/we_sounds_/
Metro
L4 GIRONA
Bus 6, 7, 39, 47, V17, V19,
------------------------------------------------------------------------------------
ENGLISH
Rooftop Sunday Funday with music from the 80s
The HOTEL RENAISSANCE BARCELONA located in the center of the city opens the doors at the rooftop on the Goja top floor every Sunday to enjoy the best music of the 80's with DJ RAUL ORELLANA. Mythic from Studio 54.
A cool place that offers incredible views over Barcelona, ​​an extensive cocktail menu, a modern food menu, and all in a neat environment with open tables so that you can keep your distance and enjoy yourself at the same time.
Come and enjoy with your friends so that your Sundays do not go unnoticed from 17:30 p.m. to 20:30 p.m. during dj hours but then we continue with the same style of music until 11:00 p.m., so you can extend it if you feel like it.
It is necessary to reserve a table for groups. * * Fist come first serve basis until full capacity.
* Compulsory conusmicion.
▷ HOTEL RENAISSANCE
Carrer de Pau Claris, 122
▷ We sounds
https://www.wesounds.com
https://www.instagram.com/we_sounds_/
Meter
L4 GIRONA
Railways
Provence
Bus 6, 7, 39, 47, V17, V19,