Entrepreneur Mindset Masterclass: Stop limiting beliefs that hold you back
Do you want your business to thrive? With our Entrepreneur Mindset Masterclasses you will get support in that! Only 20 tickets available
By Spiritual Entrepreneurs Costa del Sol
Date and time
Thursday, February 9 · 7 - 9pm CET
Location
Marlife Business Hub 9 Calle Marqués de Larios #3º izquierda y 4 º Planta 29015 Málaga Spain
Refund Policy
Contact the organizer to request a refund.
About this event
What you can expect from the Entrepreneur Mindset Masterclass?
Imagine how your life and business would look like if:
You are going through your working day relaxed and fulfilled – without any stress. 
You get a lot of things done and you also have enough time for all the other things in your life that are important to you.
You know that you are worthy and good enough. You realize the value of your work and what an amazing gift you can share with the world.
You always have clarity for your next steps and are able to do them without any procrastination.
Worries and fears of all kinds (like existential fear) no longer play a role in your life.
Does this sound too good to be true?
What would be, if this is possible for you?
The good news is that a happy, fulfilled and successful life is possible – for everybody. We saw this on and on again in our work with over 500 clients.
That this happens only one thing must change: YOU!
On the whole, your business (and your life in general) is a reflection of you and your mindset. If you want your business to get better results, YOU have to change.
With our monthly Entrepreneur Mindset Masterclasses, we will give you professional support in that change. You will learn step by step how to stop doing things that are not good for you (like worrying, stressing yourself, etc.) and instead create the life you desire. 
We will have a different topic every month which we take a closer look at. This time the topic will be: Overcome limiting beliefs that hold you back.
We prepared two speeches for around 30 minutes. After that, there will be enough time for your questions. Besides that, you can get to know other like-minded entrepreneurs who are on the same journey as you.
So stop daydreaming of a better life, take action instead and come to this event.
PS: If you have any questions about this event or something else, feel free to contact us 🤗
About us:
Marta Macy is a Mindset Coach. Originally from Poland, born with a natural passion to help people. Trained in personal and professional development by the best mentors in the world. As an entrepreneur, has 17 years of experience in international sales, branding strategy and business consulting. Marta supports entrepreneurs to get clarity on what they really want to have or be, to find and eliminate limiting beliefs which stop them from taking action. She also helps in changing unproductive habits, so they can achieve their dreams.
Andreas Hofmann is a Transformative Coach, a serial entrepreneur and the founder of Spiritual Entrepreneurs Málaga. In his work he supports his clients to let go of all their sabotaging ideas they have made up about themselves and life in general and instead get in touch with their True Self again. Coming from this everlasting place of fulfillment, love and clarity his clients create cool stuff in the world and make their dreams come true – and that with joy and ease.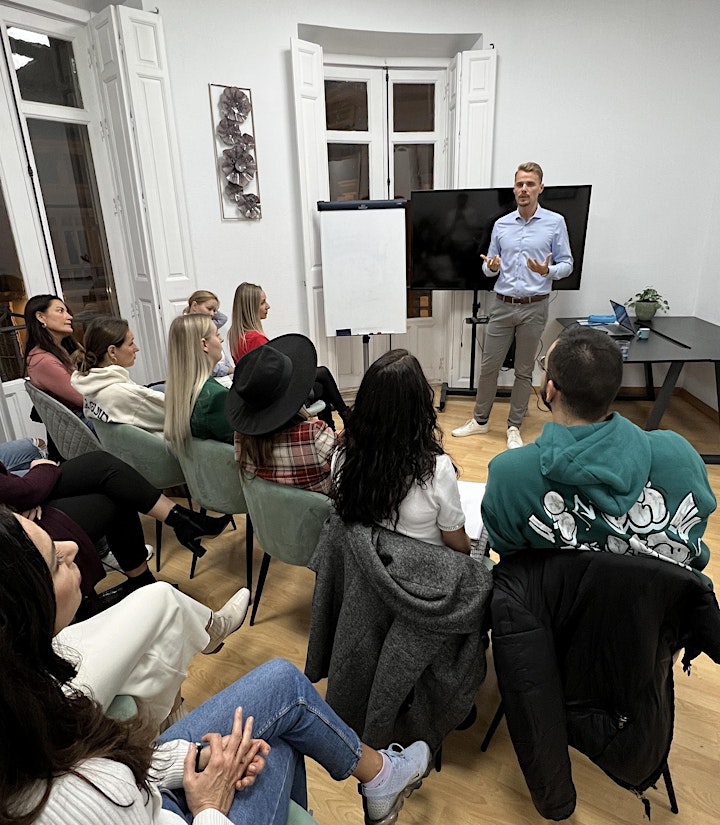 About the organizer
About the SECdS Community
Spiritual Entrepreneurs Costa del Sol (SECdS) was founded in February 2022 by Andreas because he was new in Málaga and he wanted to get to know like-minded people. When he found out that there were no events for spiritual people in Málaga, he decided to start his own events. After the first wonderful network events for spiritual people, ideas for more events came to Andreas. Guided by his intuition he wanted to create a safe and fun space, where like-minded people can come together, grow, get to know, and support each other.
In the next months, the events got bigger and bigger. Also, the first facilitators joined Andreas and brought their unique talents into the community.
And now one year later in February 2023, it is so beautiful to see what has emerged: A community with over 1.500 people, deep friendships, business collaborations, and especially a lot of personal growth. In the last year, we had 65 official events with different great facilitators. Events like:
Rooftop Parties (a networking event; the event with everything started)
Intentional Business Masterminds
Sound Meditation and Healing
Entrepreneur Mindset Masterclasses
Authentic Relating Games
Confidence and Authenticity Circles
Heart Opening Cacao Ceremonies
Andreas' vision for SECdS is to create a huge network with a lot of different events which help to raise the level of Consciousness in the area around the Costa del Sol.
Over the last year, SECdS grew bigger and bigger. SECdS also became more and more professional in its structures and workflows. Besides Andreas, the first people joined to work on the expansion of SECdS.
As you can see the journey of SECdS is just beginning and we are very excited for the future.
You want to get to know the community?
Then join us at one of our upcoming Rooftop Parties :)
Links to our channels
Official Website:
https://www.andreashofmann.info/spiritual-entrepreneurs-costa-del-sol/
WhatsApp Communities:
https://chat.whatsapp.com/CoashEO7W5FJm5KunJSHOF
Facebook group:
https://www.facebook.com/groups/spiritualentrepreneurscostadelsol
Instagram:
https://www.instagram.com/spiritualentrepreneurscds/
In case you want to say "thank you" and support us in growing the community, please visit the donation page: