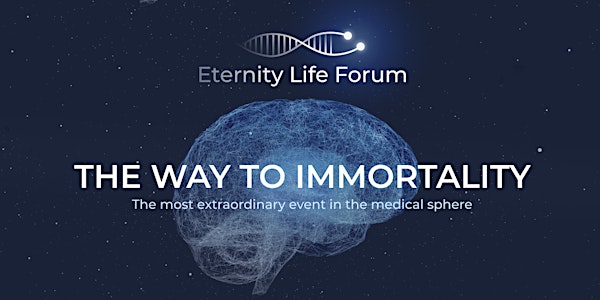 Eternity Life Forum
Eternity Life Forum will let you explore your own ways for immortality
Refund Policy
Contact the organiser to request a refund.
About this event
Eternity Life Forum is a major event, a concentration of experience, knowledge and research from a number of scientists, physicians and founders of innovative projects, who will present the latest developments and ways to increase life expectancy and perhaps achieve immortality. If you want to not only learn new information, but also share your own innovative experience, then you should definitely visit this event.
The program of the forum is designed in such a way as to cover all aspects that contribute to a significant extension of life: from biohacking and advices, as for now, thanks to simple actions and habits, we can extend life and live it healthier, with the most recent scientific researches that in the near future will help mankind to reach immortality. In addition, startups in the field of medicine will be presented at the Eternity Life Forum, as well as a whole block of the forum will be devoted to the legal aspects of creating a medical business, to build more and more companies united by one single desire - to develop and improve the healthcare sector.
Eternity Life Forum, with its variety of topics, will be interesting as well for an ordinary person who oversees their health, also for doctors who want to develop their knowledge, and entrepreneurs who already have a medical company, or just want to discover this field. Our speakers are professionals who go all the way in their aspirations and want to change the world, starting with everyone who will be a guest at the Eternity Life Forum.
Marios Kyriazis (Cyprus)
Qualified doctor and gerontologist. Chartered Member of the Royal Society of Biology in the UK. He conducts research at the Evolution Group in Brussels, and is an Assessor for the European Commission.
Siim Land (Estonia)
Online entrepreneur, author of numerous international bestsellers, and biohacker. A multidisciplinary specialist who studies various issues: from productive thinking as a pattern to fitness and health.
Ilya Stambler (Israel)
Candidate of Medical Sciences. The main promoter and activist of the concept "the key to longevity in motion". Specialist in the study of longevity and aging. He actively practiced mathematical modeling of ailments that may be associated with aging.
Nathan Bryan (USA)
Pharmacologist and biochemist. A specialist who made many discoveries in the field of nitric oxide. Mr. Brian's many discoveries have led to inventions that have dramatically improved the quality of patient care around the world. Leader in nitric oxide biochemistry and molecular medicine.
Salome Mgaloblishvili (Georgia)
A doctor who received the qualification of Tbilisi State University. Specialist in clinical hematology and transfusiology.
And many other experts.
During the Eternity Life Forum, you will be able to personally hear the speeches of competent experts, interact with them, ask questions that interest you and share knowledge.
At the Forum you will have an opportunity to visit several interesting workshops. The first of them is devoted to aspects of the analysis of genomic data and the genetic code of longevity. During the workshop, you will learn how to analyze your own genome using a platform with source code, how to choose a module to study your genome, and many other issues. If you are interested in this topic, join the workshop at our event.
The second will shed light on the question of how you can achieve longevity, live well and be healthy by controlling your own mind. Here we will talk about the possibilities of our mind and the psychological aspects of thinking. In fact, we will teach you how to train your brain as well as your body in order to be healthy and happy.
The event will be held online November 11.
The Eternity Life Forum is your opportunity to lift the veil of secrecy to the unknown questions of longevity, eternal life and control over your living. Join - you will not regret: you have never seen such a power!
Learn more about the Eternity Life Forum :