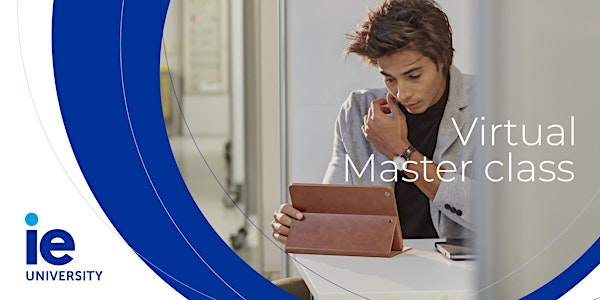 Fast Talk "Technology Frontiers"
Virtual Masterclass
About this event
Artificial intelligence, blockchain and robotics, biotech and nanotech. Which technologies will matter most to your business future? How do you make sense of them? Which companies are the best examples of their applications? Where should you start?
Our Fast Talk event Technology Frontiers will bring together leading figures from the business world to discuss leadership in a world of change.
In this edition, we'll be examining how our Global Advanced Management Program can give you a unique perspective on leadership in a rapidly evolving business ecosystem, and a holistic view of the future of the business world.
This event is part of a series of talks organized by the Disruptors' Club: an initiative which aims to bring together business leaders from around the world, and some of the world's best business thinkers with inspiring new ideas in the form of free monthly webinars produced and designed for, and by, the IE Global AMP alumni community https://www.peterfisk.com/disruptors-club/
Our goal is to help you develop the skills you need to build innovative visions and become a cutting-edge business leader, and this Fast Talk event will be an exclusive space for reflection and powerful debate among recognized thought leaders. Among those joining us to share their insight and expertise are:
Peter Fisk, Academic Director of the Global Advanced Management Program. Peter is a global thought leader on business leadership and growth, innovation and customers. He is a bestselling author of nine books, an expert strategic consultant and a keynote speaker.
Mark Esposito, Dr. Mark Esposito is an Adjunct Professor of Strategy at IE Business School and a Professor Business and Economics at Hult International Business School as well as at Harvard University's Division of Continuing Education.
Mailin Jappé, Global Management Program Alumna, Director XaaS at Acer, responsible for the strategic management of launching disruptive and digital business models in the EMEA region to support sustainable company growth and transformation.