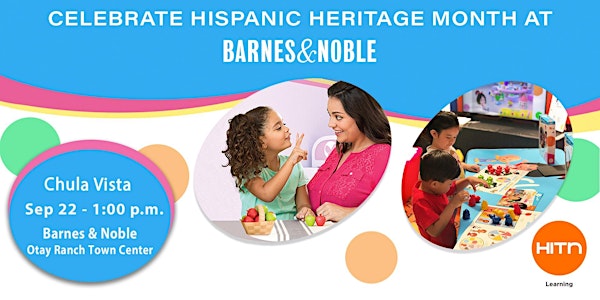 Free Event - Celebrate Hispanic Heritage Month!
When and where
Location
Barnes & Noble 2015 Birch Road Suite 700 Chula Vista, CA 91915
Description
Come and spend a fun afternoon with HITN Learning and Barnes & Noble to celebrate Hispanic Heritage Month with family and early-learning activities, arts and crafts, face-painting, storytelling, giveaways, and prizes.

Meet renowned bilingual education advocate and TEDx speaker Dr. Mariana Díaz-Wionczek, a Hispanic mom, researcher, and academic who will provide valuable tips on how to raise bilingual children in today's multicultural world.

Free and open to the public, this event will take place at Barnes & Noble / Otay Ranch Town Center on Sunday, September 22 from 1:00 to 3:00 p.m.

We hope to see you there!

----------------------------------------------------------------

Acompáñanos a celebrar el Mes de la Herencia Hispana con una divertida tarde en familia en la que tendremos actividades educativas, manualidades y lectura de cuentos para niños en edad preescolar, además de obsequios y sorteos.

Participa en la charla con la experta en educación bilingüe y oradora de TEDx, la Dra Mariana Díaz-Wionczek, mamá hispana, investigadora y académica, quien dará valiosos consejos sobre cómo criar niños bilingües en un mundo multicultural.

Este evento, gratuito y abierto al público en general, tendrá lugar en Barnes & Noble / Otay Ranch Town Center, el domingo 22 de septiembre de 1:00 a 3:00 p.m.

¡Te esperamos!

----------------------------------------------------------------

The "Raising Bilingual Children in a Multicultural World" series of events is brought to you by HITN Learning. At HITN Learning, we are committed to the social, emotional, and academic success of Hispanic/Latino children ages 0-14.
Our mission is to provide parents, caregivers, and teachers with original learning media products, in English and Spanish, which engage Hispanic families on their education journey.

HITN is the leading Spanish-language network that offers educational and entertainment content to more than 44 million households across the United States.